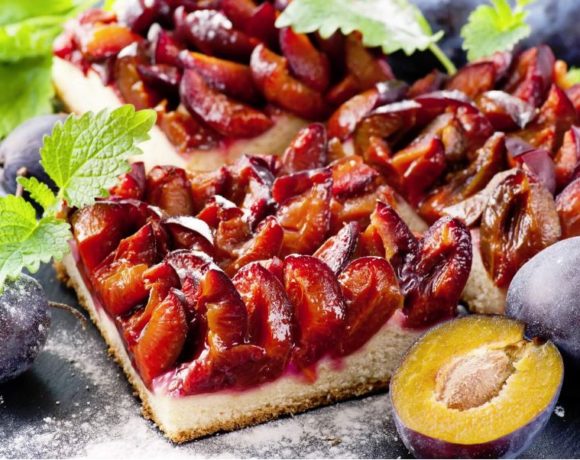 Ingredients:
Italian plums ,cut into quarters, pits removed : 3 pounds
Warm milk : 1 cup
Dry active yeast : 1 1/2 tbsp
All-purpose flour : 4 cups
Sugar : 150 g
Salt : 1/2 tsp
Butter : 120 g
Eggs : 2 nos
Pure vanilla extract : 1 tsp
For the Streusel:
All-purpose flour : 1 cup
Sugar : 1 cup
Ground cinnamon : 1 tsp
Butter : 1/2 cup
Preparation:
Dissolve the yeast in 3/4 cup warm milk and keep it aside for about 5 to 10 minutes till it becomes frothy. Take a bowl and add into it the flour, sugar and salt. Add the yeast mixture, melted butter, eggs and vanilla extract into it.
Stir it initially for combining and then attach a dough hook and knead it on the bread setting ("2") for 4-5 minutes, adding the remaining 1/4 cup milk as necessary. Loosely cover it with a plastic wrap. Keep it in a warm, draft free place to rise for an hour or until about doubled in size.
Butter well a German Backblech extended to full length or a large jelly roll pan. Spread the dough out across the full length of the pan, pressing it up against the sides. Put the plums in rows over the whole length of the dough on the sheet pan. Arrange the plums closely. Put the pan in a warm place and let it rise for up to another hour.
Making streusel:
Put all the ingredients in a medium-sized bowl and set it all together. Combine it well till it forms a rough sand and clumpy texture. Sprinkle the streusel over the top of the cake. Bake the cake in a preheated oven (350 degrees for 30-35 minutes). Let the cake sit for about 10 minutes before slicing for the liquid to set. Slice it into square pieces and serve!
Image courtesy: daringgourmet. com / images are subject to copyright