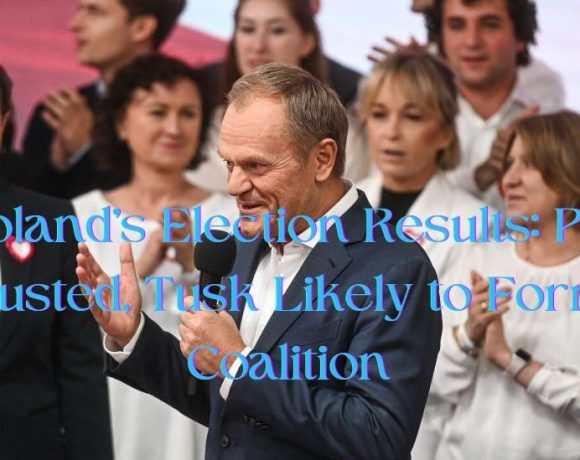 In Poland's recent general election, the opposition parties have gathered enough votes to remove the ruling right-wing populist Law and Justice (PiS) party from power. The National Election Commission confirmed PiS's victory with 35.38% of the vote, surpassing the centrist opposition Civic Coalition led by Donald Tusk, which secured 30.7%.
Donald Tusk, with the support of the center-right Third Way and New Left parties, is likely to form a broad coalition, thus ending PiS leader Jaroslaw Kaczynski's eight-year rule. With 248 seats in the 460-seat Sejm, Mr. Tusk's coalition would exceed the 231-seat threshold required for a majority.
Despite PiS losing 41 seats compared to the last election, their potential coalition with the far-right Confederation party would still fall short by 19 seats. The opposition had alerted Poles that this election was crucial in safeguarding democracy. Voter turnout was reported at 74.38%, the highest since the fall of communism in 1989.
Celebrations erupted in Warsaw, with Mr. Tusk addressing enthusiastic supporters, emphasizing that Poland and democracy had emerged victorious. Warsaw Mayor Rafal Trzaskowski praised the power of civil society, highlighting the significant voter participation in the capital.
Poland's stock market surged more than 6%, and the Zloty, its currency, also strengthened on the anticipation of a new government. International observers noted that although parties were allowed to campaign freely, PiS had an advantage due to biased state media coverage and the misuse of public funds.
PiS's tenure has been characterized by an emphasis on Catholic family values, increases in the minimum wage, and enhancements in child support and pensioner payments. It also imposed a near-total ban on abortion in 2021 and faced criticism for politicizing the judiciary.
Mr. Tusk has pledged to improve relations with the EU and unlock €36bn of EU Covid pandemic recovery funds, frozen due to disputes over PiS's judicial reforms. His coalition also aims to liberalize abortion laws.
Poland's strong support for Ukraine since Russia's invasion and its acceptance of a million refugees are expected to continue under the new government. However, the process of forming a new government might extend until December, following President Andrzej Duda's announcement that the winning party would be given the first opportunity to form a coalition, adhering to Polish tradition.
Picture Courtesy: Google/images are subject to copyright