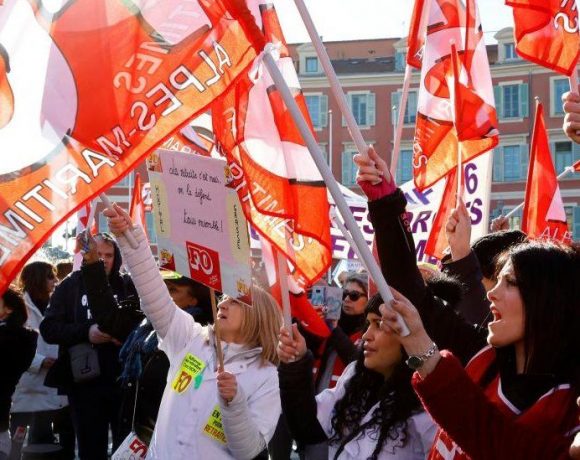 The president of France, Emmanuel Macron, is facing a second wave of strikes and protests over his proposals to raise the retirement age from 62 to 64.
The strike, which has affected schools, public transportation, and oil refineries, is being participated in by eight major unions. Hundreds of thousands of people are participating in marches around France after the first day of protests drew more than a million participants.
There have been more people in several cities than on January 19. Despite polls showing that two-thirds of French oppose the reforms, which start their journey through the National Assembly next week, the Macron administration is moving on with them.
Without a majority in the legislature, the administration will be forced to rely on the right-wing Republicans just as much as its own legislators from the ruling parties.
Thousands more marchers gathered in Toulouse, Marseille, and Nice in the south, Saint Nazaire, Nantes, and Rennes in the west, hours before the main demonstration in downtown Paris' Place d'Italie. An estimated 11,000 police officers were stationed to monitor the protests occurring in 200 towns and cities.
Only two of Paris's driverless metro lines were operating normally, and only one in three high-speed trains were operating. On one of the main overground lines in the capital, there were reportedly large crowds.
The CGT union said at least three-quarters of workers had walked out at the big TotalEnergies oil refineries and fuel depots, although the company said the number was far lower. Power plants reported reduced production after workers went on strike at the main electricity company EDF.
Picture Courtesy: Google/images are subject to copyright