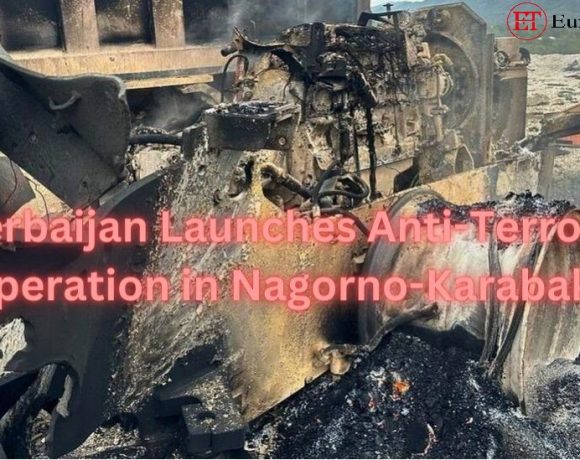 Azerbaijan's defense ministry has initiated "anti-terrorist" operations in regions of Nagorno-Karabakh controlled by Armenia. Tensions have remained elevated for several months concerning the disputed ethnic-Armenian enclave, which is internationally recognized as part of Azerbaijan.
In Karabakh's main city, air raid sirens and mortar fire were heard. Tragically, eleven Azerbaijani police and civilians lost their lives in a mine explosion and another incident.
Officials from the breakaway region of Karabakh stated that the Azerbaijani military breached the ceasefire by launching missile and artillery attacks along the entire line of contact. Representatives from Karabakh described it as a "large-scale military offensive."
Azerbaijan and Armenia, neighboring nations, have previously engaged in two conflicts over Nagorno-Karabakh: first in the early 1990s after the collapse of the Soviet Union and again in 2020. Three years ago, Azerbaijan successfully regained territories surrounding Karabakh, which had been held by Armenia since 1994.
Since December, Azerbaijan has imposed an effective blockade on the only route into the enclave from Armenia, known as the Lachin Corridor.
On Tuesday, Baku's defense ministry accused Armenian forces of "systematically shelling" its military positions and claimed to have responded by launching "local, anti-terrorist activities" aimed at disarming and securing the withdrawal of Armenian armed forces from Azerbaijani territories. They emphasized that their targets were strictly military and not civilians or civilian infrastructure.
Armenia's defense ministry denied claims of Armenian military fire, stating that they did not correspond to reality.
The sounds of artillery and gunfire were reported from Khankendi, the regional capital of Karabakh, known as Stepanakert to Armenians. An estimated 120,000 ethnic Armenians reside in this mountainous enclave.
Journalist Siranush Sargsyan reported that residential areas of the city had been struck, including a neighboring building.
Armenian officials noted that, as of 14:00 (10:00 GMT), the situation along Armenia's own borders was "relatively stable."
Russia's foreign ministry disclosed that it had been informed of the Azerbaijani offensive only moments before it occurred, urging both nations to respect the ceasefire that was signed after the 2020 war. The EU's regional special representative, Toivo Klaar, emphasized the "urgent need for an immediate ceasefire."
The fragile truce that ended the six-week war in 2020 had been under increasing strain in recent months. Approximately 3,000 Russian peacekeepers were deployed to monitor the ceasefire, but Russia's attention has been redirected to its full-scale invasion of Ukraine. Armenian Prime Minister Nikol Pashinyan recently stated that Russia was "spontaneously leaving the region."
Azerbaijan had denied increasing troop numbers in the region. On Monday, it permitted aid from the International Committee of the Red Cross to enter Karabakh via two routes, one through the Lachin Corridor from Armenia and the other on Azerbaijan's Aghdam road.
Hopes for tensions to ease were dashed when Azerbaijani officials reported six casualties, including four police officers, in an incident where their vehicle hit a landmine in the Khojavand area, which had been retaken during the 2020 war. Meanwhile, ethnic Armenian officials in Karabakh asserted that it was Azerbaijan's military that had violated the ceasefire.
Picture Courtesy: Google/images are subject to copyright