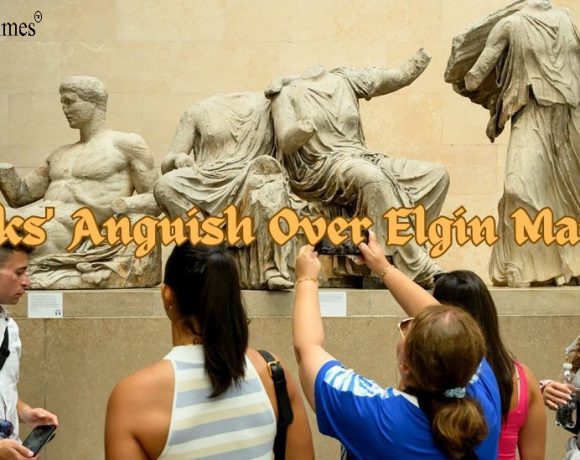 More than 200 years after their removal by Lord Elgin, the Elgin Marbles remain a contentious issue, symbolizing perceived injustice among the majority of Greeks. The British claim of ownership is widely rejected, and the sculptures, often referred to as the Parthenon Sculptures, are seen as stolen treasures, taken through imperial theft.
In central Athens, a consensus prevails among the people, regardless of age, asserting that the Parthenon and its sculptures rightfully belong to Greece. The argument that the British Museum ensures better preservation is dismissed, with anecdotes about issues like a leaking roof at the museum cited as evidence to the contrary.
At the foot of the Acropolis, a dedicated museum has been waiting for 14 years to showcase the missing marbles upon their return. While countries like Italy have expressed willingness to return Greek antiquities, the British government has not followed suit, maintaining a contentious stance on the issue.
The cancellation of a meeting between UK Prime Minister Rishi Sunak and Greek Prime Minister Kyriakos Mitsotakis has strained diplomatic relations. Cabinet minister Adonis Georgiadis, expressing a sense of offense, underscores the bipartisan unity in Greece, asserting that the return of the marbles is not merely a political stance but a matter of national and cultural significance.
Foreign Minister Giorgos Gerapetritis reinforces the claim, emphasizing the historical, just, and ecumenical cultural value attached to the sculptures. Despite the strained relations, there is a hope for a resolution, with Georgiadis expressing the wish for the British Museum to find a "reasonable way out" of a predicament seen as a "disgrace" by many Greeks.
Among the late-night shoppers in Athens, skepticism towards the British Museum's motivations is evident, with some attributing the reluctance to financial concerns. The sentiment among Athenians is that the return of the marbles would not only make Greeks happy but also foster goodwill globally, promoting fairness and reasonability.
Picture Courtesy: Google/images are subject to copyright