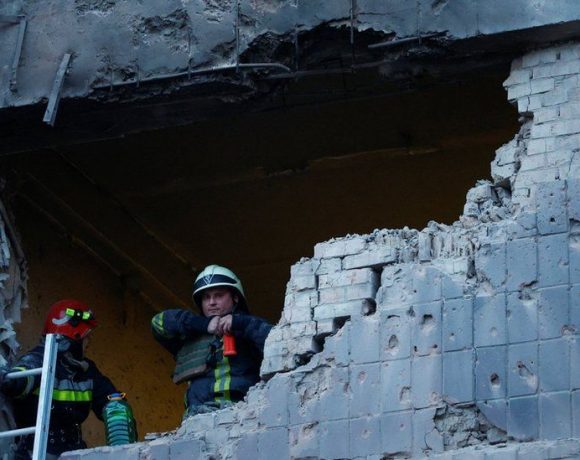 Russia has conducted a large-scale drone attack on the capital of Ukraine, Kyiv. According to reports, 54 kamikaze drones were launched by Russia, out of which 52 were shot down by Ukraine's Air Force. The attack resulted in the death of one person and injury to a woman when drone wreckage fell near a petrol station. Several high-rise buildings in different districts of Kyiv caught fire due to falling drone fragments, and warehouses in the Holosiyivsky district were also set ablaze.
Kyiv residents described their experiences during the attack, with one person mentioning being woken up by a drone flying close to her window and witnessing a series of bright flashes followed by loud explosions. Despite the terrifying situation, many residents expressed gratitude for the air defense and rescue services and emphasized the importance of cherishing every moment of life.
Some officials accused Russia of intentionally targeting Kyiv, particularly as the city was preparing to celebrate Kyiv Day. The attacks by Russia have been escalating, using kamikaze drones, cruise missiles, and ballistic missiles. Ukraine has been preparing for a counter-offensive, and one of its senior security officials stated that the country was ready to launch such an operation.
Both Russia and Ukraine have been engaging in drone attacks, with Russia targeting critical infrastructure and military targets. Ukraine has been retaliating by targeting key locations in the occupied regions of southeastern Ukraine. The frequency of military exchanges between both sides has been increasing as Ukraine prepares for its counter-offensive.
Russia's ambassador to the UK warned about the escalation of the war, emphasizing that the supply of weapons to Ukraine could further escalate the conflict beyond the current levels. He expressed Russia's desire to avoid such a scenario.
Picture Courtesy: Google/images are subject to copyright