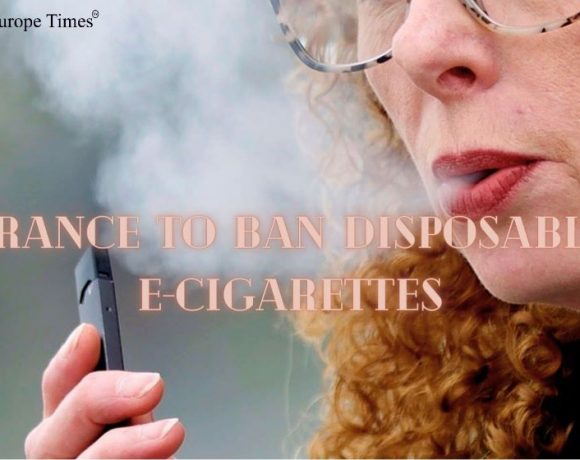 France is poised to implement a ban on disposable e-cigarettes, known locally as 'puffs,' due to concerns about their impact on the environment and public health. Prime Minister Élisabeth Borne announced this move as part of a broader anti-smoking plan developed by the government, with the ban expected to take effect by year-end. Similar bans have been announced in several other European countries, including Germany, Belgium, and Ireland, with the UK also reportedly considering such a prohibition.
These disposable vapes, available at tobacconists in France for approximately €9 (equivalent to £7.70), claim to provide around 600 puffs, roughly equivalent to 40 traditional cigarettes. However, France's National Academy of Medicine has criticized them as a 'deceptive lure for children and adolescents,' arguing that they instill smoking-related behaviors in young users.
Critics accuse manufacturers, many of which are based in China, of deliberately targeting teenagers with colorful designs and a variety of flavors reminiscent of a candy store, such as marshmallow, chocolate, hazelnut, watermelon, and ice candy. According to the Alliance Against Tobacco (ACT), 13% of 13-16-year-olds in France have tried disposable e-cigarettes at least once, with most starting around the ages of 11 or 12.
Campaigners argue that the ban is a significant victory, as disposable e-cigarettes serve as a gateway to smoking for young people. Loïc Josseran, ACT president, emphasizes the tobacco industry's role in this trend, describing it as a deliberate effort to entice children.
Environmental concerns have also been raised, as disposable e-cigarettes contribute to ecological damage. In the UK, a study by the environmental organization Material Focus found that over one million of these devices were discarded weekly. French doctors and environmentalists have called disposable e-cigarettes an 'environmental plague,' citing their plastic construction, non-removable lithium batteries, nicotine content, and traces of heavy metals.
Picture Courtesy: Google/images are subject to copyright