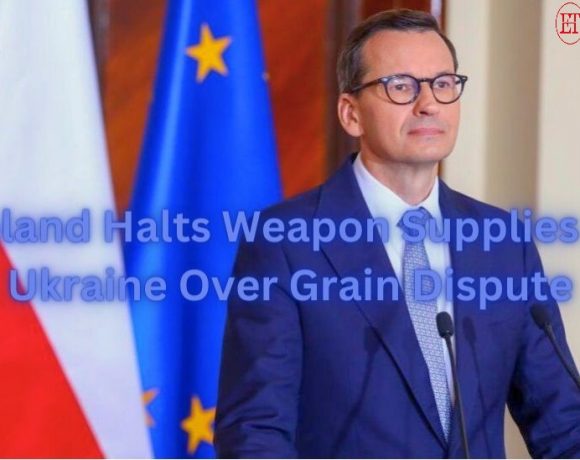 One of Ukraine's steadfast supporters, Poland, has declared that it will cease its weapon supplies to its neighboring country, Ukraine, citing a diplomatic dispute regarding Ukraine's grain exports as the primary reason. Prime Minister Mateusz Morawiecki emphasized that Poland's current focus is on bolstering its own defense capabilities with more modern weaponry.
Poland had already provided Ukraine with significant military assistance, including 320 Soviet-era tanks and 14 MiG-29 fighter jets. However, their willingness to continue such support has dwindled, coinciding with escalating tensions between the two nations.
The recent diplomatic rift was triggered when Poland, along with Hungary and Slovakia, extended a ban on Ukrainian grain imports. Ukrainian President Volodymyr Zelensky's comments at the United Nations, characterizing their actions as political theater, added fuel to the fire. Poland viewed these remarks as unjustified, given their longstanding support for Ukraine.
In his interview, Prime Minister Morawiecki underlined that while Poland remains committed to assisting Ukraine in its struggle against Russian aggression, it could not allow its own markets to be destabilized by Ukrainian grain imports. He pointed out that Poland was already replacing its depleted military hardware, which had been significantly reduced through transfers to Ukraine, with modern Western-produced equipment.
While arms exports to Ukraine will not cease entirely, only previously agreed deliveries of ammunition and armaments, including those from existing contracts with Ukraine, will be fulfilled. This decision reflects Poland's commitment to its own security and stability, while the future of its assistance to Ukraine remains uncertain.
The ongoing grain dispute arises from Ukraine's need to find alternative overland routes for grain exports due to Russia's full-scale invasion, which nearly closed the main Black Sea shipping lanes. Consequently, large quantities of grain flowed into Central Europe, leading the European Union to temporarily ban grain imports into several countries. Despite the EU lifting the ban, Poland, Hungary, and Slovakia have maintained it, leading to Ukraine's WTO lawsuits against these nations. Poland has signaled its intention to uphold the ban, while also hinting at the possibility of expanding the list of banned products should Ukraine escalate the grain dispute. However, diplomatic channels remain open, with discussions ongoing to seek a mutually beneficial solution.
Picture Courtesy: Google/images are subject to copyright