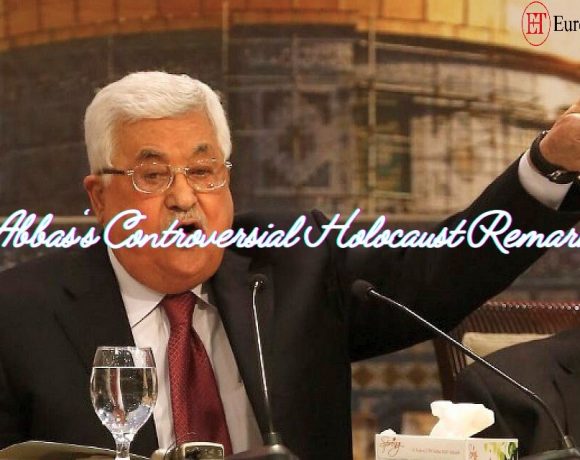 German and Israeli authorities have expressed strong condemnation for statements made by Palestinian President Mahmoud Abbas in a recent speech concerning Jews and the Holocaust.
Abbas suggested that Adolf Hitler's mass murder of Jews was driven by their perceived "social role" as moneylenders, rather than rooted in anti-Semitism.
Israel's UN ambassador characterized Abbas's remarks as "clear-cut antisemitism," while Germany's Ramallah mission emphasized the historical reality of the Holocaust, asserting that millions of lives were annihilated and that this fact cannot be downplayed.
Steffen Seibert, Germany's ambassador to Israel, stressed the importance of Palestinians hearing the historical truth from their leader rather than such distortions.
Abbas's speech, delivered last month to the Fatah Revolutionary Council and later broadcast on Palestine TV, has drawn widespread criticism. In his speech, Abbas asserted that Hitler's actions were not based on religious animosity but were due to the Jews' role in "usury, money, and so on."
Additionally, Abbas revived a long-discredited theory that European Ashkenazi Jews are not descended from ancient Israelites but from 8th Century Khazar converts to Judaism.
The president's comments are consistent with his past controversial statements, aimed at disputing the connection between the Jewish people and modern-day Israel, a topic central to the Israel-Palestine conflict.
Israeli foreign ministry shared the contents of Abbas's speech on social media, with Israeli Ambassador to the UN, Gilad Erdan, asserting that it reveals the true nature of Palestinian leadership, blaming Jews for various issues in the Middle East.
The European Union also criticized Abbas's speech, describing it as "false and grossly misleading." They stressed that such historical distortions are inflammatory and offensive, fuel antisemitism, and trivialize the Holocaust.
This isn't the first time Abbas has sparked international outrage with his statements. In the past, he likened Israel to Nazi Germany and accused Israel of carrying out "50 massacres; 50 holocausts," drawing strong condemnation from various quarters.
Following previous controversies, Abbas issued a statement through the official Palestinian news agency, Wafa, acknowledging the Holocaust as "the most heinous crime in modern human history" but stopped short of a direct apology.
Picture Courtesy: Google/images are subject to copyright