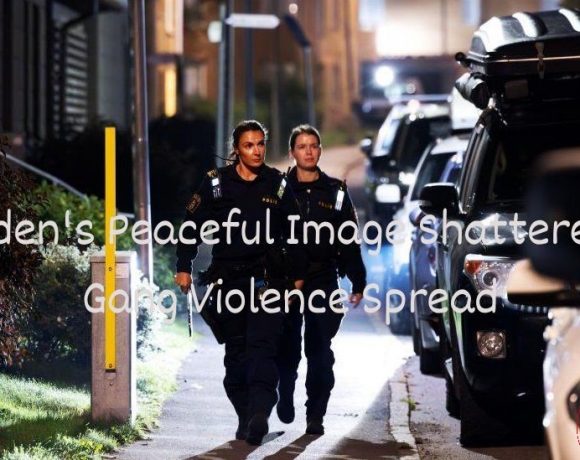 The surge in gang-related violence, including shootings and bombings, once confined to Sweden's major cities, has now spilled into quieter suburbs and towns, challenging the nation's reputation for safety. Upplands-Bro, a community north of Stockholm, has witnessed a series of incidents, including the tragic death of a 14-year-old boy in August and multiple shootings and bombings since January.
The shift in violence from impoverished urban areas is attributed, in part, to gangs targeting the relatives of their rivals. Law enforcement suspects that some of the recent violence is coordinated by criminal leaders based in other countries, such as Turkey and Serbia. The toll has been significant, with nearly 50 fatalities and over 140 explosions in 2023 alone, surpassing the previous year's record of over 60 deaths from gun violence.
Gangs have evolved beyond street-level criminal activities, forming connections with higher-level criminals. Innocent bystanders, including a 70-year-old man and a 24-year-old teacher, have fallen victim to the violence. Prime Minister Ulf Kristersson acknowledged the severity of the situation in a rare national address, promising stricter penalties for deadly violence.
Children as young as 13 or 14 are being recruited into gangs through promises of money and designer clothes on social media. Concerned individuals are taking action, organizing street patrols in affected areas. Community engagement, like night walks and support for families affected by violence, is seen as a way to enhance safety.
In areas like Jarva, where unemployment rates are high, individuals like Libaane Warsame have taken it upon themselves to patrol the streets after losing a family member to gun violence. Despite a lack of fatal shootings this year, residents remain on edge.
The rise in gang violence has prompted the government to reevaluate immigration policies. The right-wing coalition government, elected in 2022, believes that the increase in violence is linked to past immigration policies. Steps include making it harder for immigrants outside the EU to receive social benefits and introducing compulsory preschool to improve Swedish-language skills in certain areas. Legislation against recruiting children for criminal activities has been enacted, and plans for stop-and-search zones and increased prison sentences for offenses, such as gun crimes and explosions, are in progress.
Picture Courtesy: Google/images are subject to copyright