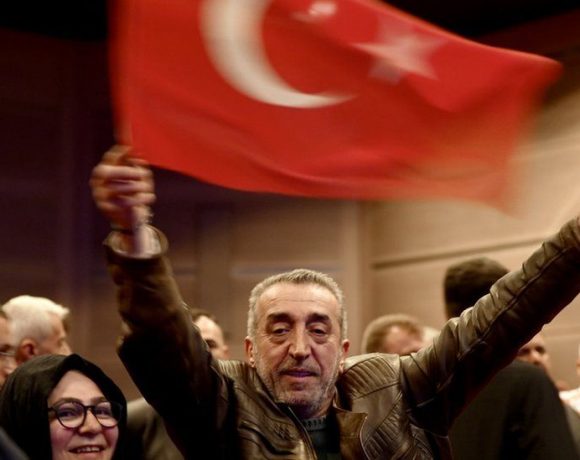 In the final hours of Turkey's presidential race, tensions have risen as Recep Tayyip Erdogan seeks to extend his 20-year rule by another five years. Opposition candidate Kemal Kilicdaroglu has appealed to nationalist voters by promising to expel millions of Syrian refugees, which Erdogan has labeled as hate speech and warned that it would benefit terrorists. Kilicdaroglu is trailing behind by 2.5 million votes from the first round, but he believes he can bridge the gap with the support of ultranationalist voters and those who didn't vote in the first round.
Kilicdaroglu recently engaged in a four-hour Q&A session on a popular YouTube channel, BaBaLa TV, which has garnered 24 million views. This move was seen as a strategic move to reach out to young voters who didn't participate in the previous round. The appearance on BaBaLa TV was crucial for Kilicdaroglu to counter Erdogan's dominance over the Turkish media, as he controls approximately 90% of it.
International observers have criticized Turkey for not meeting the basic principles of holding a democratic election, citing limited media freedom and crackdowns on dissent. Erdogan has consolidated power over the past six years and suppressed political opponents, leading to their imprisonment. In a town called Bala, where Erdogan enjoys strong support, Kilicdaroglu is unlikely to find much backing. The majority of voters there supported Erdogan in the previous round, and there is little sign of first-time voters mobilizing.
While Turkey's struggling economy was initially the main issue, the focus has shifted to the refugee crisis as the run-off vote approaches. Kilicdaroglu, aiming to attract ultranationalist voters, secured the support of the anti-immigrant Victory Party, whose leader claimed that Kilicdaroglu had agreed to repatriate "13 million migrants" within a year, in line with international law. However, Turkey hosts a much smaller number of refugees, and experts deem the discourse unrealistic and unfeasible.
Public opinion polls suggest that around 85% of Turks want Syrian refugees to return home, making the refugee issue a significant factor in the election. Kilicdaroglu is tapping into security concerns and the perceived threats associated with the immigrant crisis, terrorist attacks, and regional conflicts involving Russia, Syria, and Azerbaijan.
Erdogan has responded by claiming that he is already sending Syrian refugees back and plans to do more. He has also used manipulated videos to link Kilicdaroglu to the Kurdish militant PKK, which is considered a terrorist organization. His target is the pro-Kurdish HDP party, which supports Kilicdaroglu and has been falsely associated with the PKK by Erdogan. The HDP supports Kilicdaroglu to end what they perceive as Erdogan's authoritarian rule but has reservations about his alliance with a far-right nationalist party.
Initially, there were expectations that Erdogan could be defeated due to his mishandling of the economy and his response to natural disasters. However, almost half of the voters supported him in the first round. The question remains whether Kilicdaroglu's change in strategy will be effective. Some voters, like Songul, who desired change initially, have decided to stick with Erdogan due to a lack of trust in Kilicdaroglu and the absence of a viable alternative.
Picture Courtesy: Google/images are subject to copyright