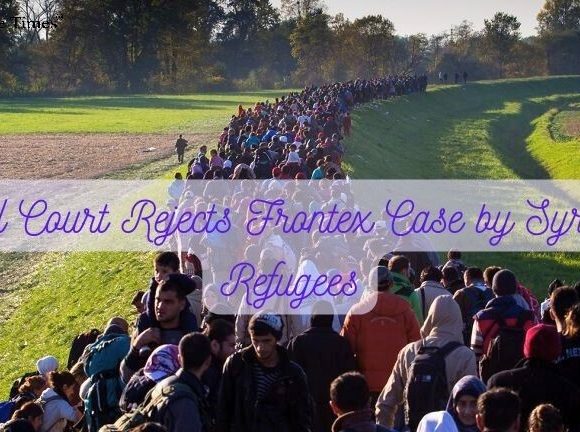 The European Union's highest court has rejected a case against the European border agency Frontex, which was brought by a Syrian refugee family forcibly sent from Greece to Turkey in 2016. The family's lawyers argued that Frontex should be held responsible for the deportation of refugees without the opportunity to apply for asylum, which is considered illegal under international law.
However, the European Court of Justice dismissed their challenge, stating that Frontex lacks the authority to assess the merits of return decisions or asylum applications, and therefore cannot be held liable for any harm caused.
The Syrian family, consisting of a husband, wife, and four young children, arrived in Greece in 2016 as part of the European migrant crisis. They registered their intention to seek international protection on the Greek island of Leros but were subsequently transported to the island of Kos. After just eleven days in Greece, the family alleges that they were flown to Turkey by Frontex and Greek authorities without being given the opportunity to apply for asylum or receiving an expulsion decision. The family claimed that they were misled into believing they were being taken to Athens when they boarded the plane. During the flight, the parents were reportedly separated from their children, who were between one and six years old at the time, and they were not allowed to communicate with anyone during the journey.
The family was released in Turkey but lacked access to housing, water, or sanitation. They later fled to northern Iraq. In 2021, they brought their case to the European Court of Justice, supported by human rights lawyers and the Dutch Council for Refugees.
Following the court's ruling, the family expressed their disappointment, emphasizing that Frontex should be held accountable for their unjust treatment. Their lawyers indicated that they intended to appeal the decision.
Legal experts argued that individuals should not be deported to another country without a proper assessment of their need for asylum, which they claim did not occur in this case.
The Dutch Council for Refugees and the law firm representing the family stated that the ruling raised questions about how Frontex should ensure respect for fundamental rights in its activities, as mandated by its role.
Frontex responded by requiring EU member states to confirm that individuals were given the opportunity to seek international protection and that their applications were processed in accordance with EU laws.
The European Parliament had previously noted that human rights organizations, media, and civil society groups regularly reported cases of pushbacks or collective expulsions at the EU's borders, often involving excessive force by EU member state authorities. Frontex had faced accusations of failing to protect individuals in these situations.
Picture Courtesy: Google/images are subject to copyright