Kasespatzle : A German Delight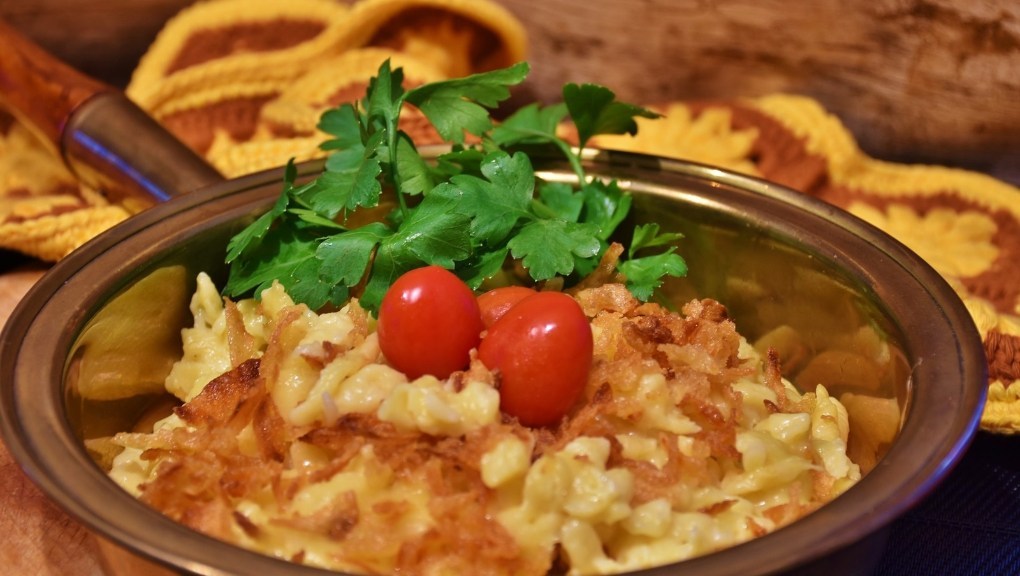 Ingredients:
Eggs : 3 nos
Milk : 1 cup
Flour : 3 cups
Nutmeg : ¼ tsp
Salt : 1 pinch
Pepper : 1 pinch
Water : 2 qt
Butter : 1 tbsp
Swiss cheese, shredded : ½ cup
Preparation:
Beat well the eggs and milk with a fork or beater. Add into it salt, pepper and nutmeg. Add the flour gently into it in small amounts and mix well with a fork. Add the whole flour till the mixture becomes thick and elastic. Let stand for 5 minutes while bringing a 3 qt pot filled with water to boil.
Add the prepared dough into a spatzle maker and press through.
Let the dough hang into the water (be patient, it will fall off by itself, no need to cut it off).
When the noodles rise into the top, the recipe is ready. Strain it well. Transfer it into a bowl. Heat 1 tbsp butter in a large pan. Add chopped onions into it and simmer for 7 minutes. Add spatzle and sprinkle swiss cheese on top. Stir well until all cheese is melted. Garnish it with coriander leaves and serve hot.
Image courtesy: leipglo. com / images are subject to copyright