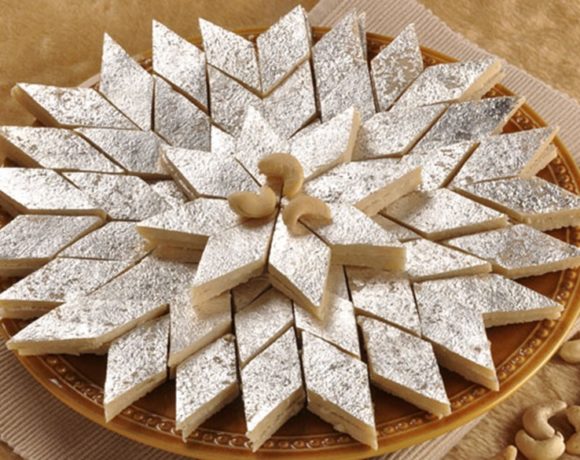 The Kaju Katli or Kaju Barfi is a traditional Indian sweet, that is rich with Cashew nuts. This sweet gives a tempting flavor of cashews, milk and ghee that will melt into your mouth!
Ingredients:
Powdered cashews : 2 cups
Water : 1/2 cup
Ghee : 2 teaspoon
Silver vark : 4 inches
Sugar : 1 cup
Milk : 2 tablespoon
saffron for garnishing
Preparation:
Grind the cashews to a smooth powder. Then prepare the cashew paste by adding little water, make sure that the paste is thick in consistency. Take a shallow pan and heat in on medium flame and add some water in it. Add sugar and stir continuously until it is fully dissolved.
Bring the syrup to a boil until it reaches to one string consistency. When the sugar syrup prepared, add the cashew powder and mix well. Stir this mixture for about 5-10 minutes or till it starts to thicken and remove it from the flame.
Add a pinch of cardamom powder, for an extra flavor and aroma.
Transfer this cashew paste to a large plate or bowl and allow it to cool slightly. When it is cooled, knead the mixture well. Flatten the dough using a rolling pin. Grease a plate with ghee and transfer this cashew dough on it. Using a rolling pin, gently roll until the dough has evenly spread out on the plate. Allow it to cool completely and cut the dough in small diamond shapes. Garnish with saffron and serve!
Image courtesy : dhanrajsweets.com / images are subject to copyright