Feta-Brined Roast Chicken – A Classic Chicken Recipe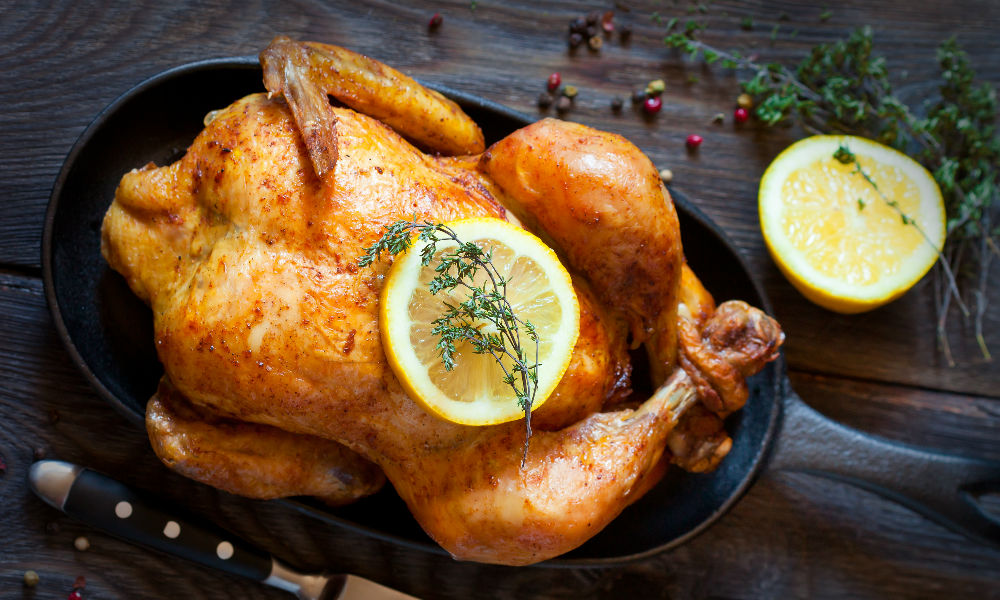 Ingredients:
Water : 4 cups
4 ounces feta cheese (about 1 cup crumbled)
Kosher salt : 2 tsp
Freshly ground black pepper : 2 tsp
4 medium boneless, skinless chicken breasts (about 2 pounds total)
1 head garlic
Fresh rosemary, cut or broken into small pieces : 6 sprigs
Olive oil : 1 tbsp
1/2 large lemon
Crostini, for serving
Preparation:
Blend the water, feta, salt, and pepper in a bowl, until it becomes smooth. Put the chicken breasts in a large resealable plastic bag or container. Spread the brine over the chicken and cover it. Refrigerate at least 8 hours or overnight.
Arrange a rack in the middle of the oven and heat to 400°F. Remove the chicken breasts from the brine, pat dry with paper towels, and place in a single layer in a baking dish or on an aluminum foil-lined rimmed baking sheet. Let sit for about 30 minutes at room temperature.
Take some garlic cloves, peel, smash, and scatter around the chicken. Cut the top off the remaining garlic head to expose the cloves, cut in half horizontally, then place the 2 pieces in the pan. Sprinkle the rosemary sprigs over the chicken, then drizzle with the oil. Roast until an instant-read thermometer inserted in the thickest part of the breasts reads 165°F, 35 to 45 minutes.
Take out the chicken breasts from the oven, squeeze the juice from the lemon half over the chicken, and let it rest for 5 minutes before serving. Squeeze the roasted garlic cloves out of their peels onto crostini, if desired.
Image courtesy: about.spud.com / images are subject to copyright