Italian Bolognese sauce – Revealing the secret of this recipe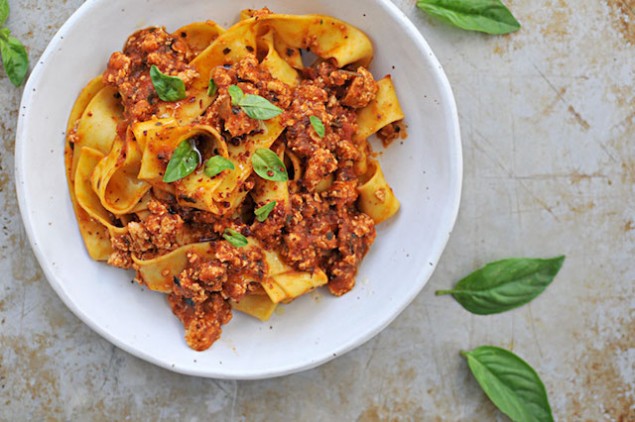 Ingredients:
Vegetable oil: 1 tbsp
Butter: 4 tbsp
Chopped onion: 1/2 cup
Chopped celery: 1/2 cup
Chopped carrot: 1/2 cup
Ground beef chuck: 3/4 pound
Salt
Freshly ground black pepper
Whole milk: 1 cup
Whole nutmeg
Dry white wine: 1 cup
Canned imported Italian plum tomatoes: 1 1/2 cups
Pasta: 1 1/2 pound
Freshly grated parmigiano-reggiano cheese
Preparation:
Take a pan and add the oil, butter and chopped onion into it. Put the flame on medium. Cook and stir the onion until it has become translucent. Add the chopped celery and carrot. Cook for about 2 minutes.
Add the ground beef, salt and a few grindings of pepper. Crumble the meat with a fork. Stir continuously and cook well. Add milk and simmer slowly. Stir continuously, until it has bubbled away completely. Add about 1/8 teaspoon of nutmeg, and stir.
Add wine and let it simmer until it has evaporated. Add the tomatoes and stir thoroughly. When the tomatoes begin to bubble, turn the heat down. Cook, uncovered, for 3 hours or more. It will begin to dry out and the fat separates from the meat. At the end, however, no water at all must be left and the fat must separate from the sauce. Check the salt. Toss with cooked drained pasta, with one tablespoon of butter. Serve with freshly grated Parmesan !
Image courtesy: honestcooking.com / images are subject to copyright