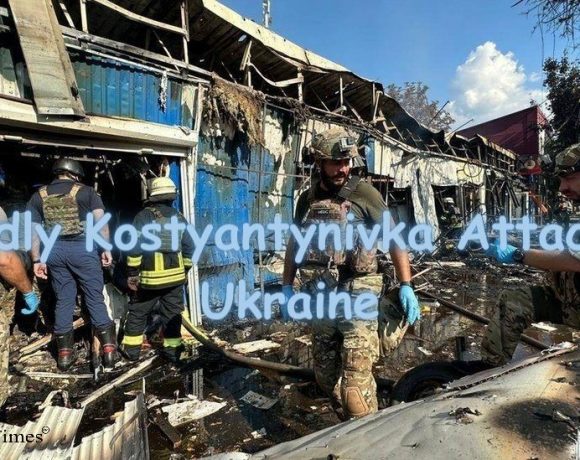 President Zelensky has strongly condemned a deliberate attack on the peaceful city of Kostyantynivka in Ukraine's eastern Donetsk region. The attack, which occurred in broad daylight on a bustling market street, claimed the lives of 17 people, including a child, and left at least 32 others injured. Videos circulating on social media captured a vivid orange explosion at one end of the street, where people were engaged in shopping. Russia has yet to issue a statement regarding the attack.
President Zelensky, holding Moscow responsible, expressed his outrage at the loss of innocent lives, emphasizing that the victims were ordinary citizens who had done nothing wrong. He cautioned that the death toll could rise further, characterizing dealing with Russia as confronting audacious malevolence.
The blast damaged a market, shops, and a pharmacy, but Ukrainian Prime Minister Denys Shmyhal assured residents that all essential services were functioning, and the fire was under control.
Ukraine's Interior Minister, Ihor Klimenko, later announced that the search and rescue operation had concluded. Online footage and images depicted the explosion and its harrowing aftermath.
This incident represents one of the most severe attacks of its kind in recent months, striking a bustling street as people gathered at market stalls and café terraces. Ukraine's prosecutor-general has initiated an investigation into the attack, pursuing criminal proceedings for violations of the laws and customs of war and documenting potential war crimes committed by the Russian Federation.
Russian officials have not claimed responsibility for the attack, and they have previously denied targeting civilians during their offensive.
Kostyantynivka, situated near the conflict zone, has experienced several attacks this year, causing civilian casualties and extensive damage to residential buildings and infrastructure. Additionally, the city is approximately 17 miles (27km) from the heavily contested city of Bakhmut.
US Secretary of State Antony Blinken's visit to Kyiv coincided with the attack, where he met with Ukraine's Foreign Affairs Minister Dmytro Kuleba. Ahead of his arrival, sirens blared across the country, and Kyiv's air defense system intercepted missiles aimed at the capital. It was anticipated that Mr. Blinken would announce a new US aid package for Ukraine during his visit.
Picture Courtesy: Google/images are subject to copyright