Apple Pie – A Tasty Serve !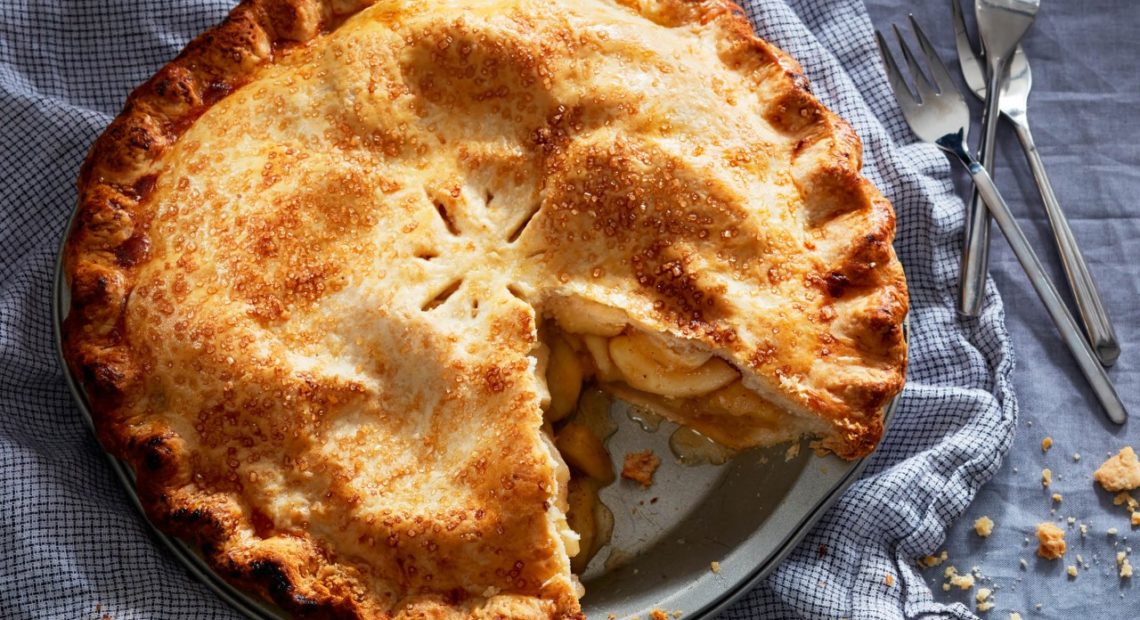 Ingredients:
All-purpose flour : 2 1/2 cups
Granulated sugar : 2 tbsp
Salt : 1 tsp
Cold lard : 1/2 cup
Cold unsalted butter, cubed : 1/2 cup
Ice water : 8 tbsp
For Filling:
Fresh Apples, sliced : 6 cups
Granny Smith apples, sliced : 4 cups
Lemon Juice : 1 tbsp
Butter : 2 tbsp
Granulated sugar : 2/3 cup
Cornstarch : 1/4 cup
Lemon zest : 2 tsp
Cinnamon : 1/4 tsp
Salt : 1/4 tsp
Grated nutmeg : 1/4 tsp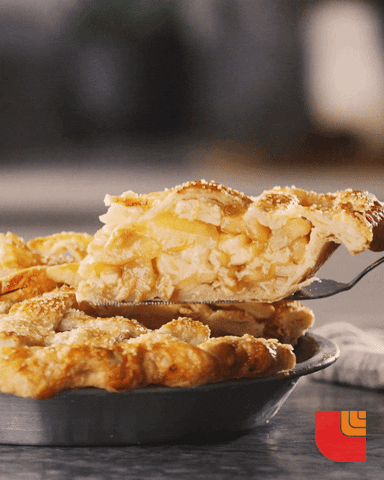 Preparation:
Mix 2 tbsp sugar, 1 tsp salt and flour in a food processor until combined. Add lard and pulse 12 times. Add 1/2 cup butter and pulse 7 or 8 times until pea-size.
After that add ice water through the feed tube until dough just comes together. Divide the prepared dough into balls and make the balls. Wrap in plastic wrap. Flatten it into discs. Refrigerate for about 1 hr.
Put it in the lowest level of oven. Place a baking sheet on rack and preheat to 425 F. Roll the dough portion into a 12-in. circle on a lightly floured surface. Press onto a 9-in. pie plate, then refrigerate. Roll remaining dough portion into a 13-in. circle. Place on a large plate and refrigerate.
In a large bowl, toss the apples with lemon juice. Melt 2 tbsp butter in a large frying pan over medium. Add apples and cook, stirring, until liquid evaporates, 7 to 9 min. Transfer it to a baking sheet and set on a rack, turning occasionally, until cooled, 25 min. Stir 2/3 cup sugar, cornstarch, lemon zest, cinnamon, 1/4 tsp salt and nutmeg in a bowl. Sprinkle over apples and toss to combine. Pour apples and any juices into chilled pie shell, spreading evenly.
Spread the remaining dough over apples, pressing edges of dough together. Trim the edges with scissors, if needed, leaving 1/2-in overhang. Fold top edge under bottom edge, then crimp together using index finger and thumb. Cut 3 to 5 steam vents on top. Brush with egg wash without touching the edges. Sprinkle with coarse sugar.
Put the pie on hot baking sheet and bake for 20 min. Reduce heat to 375 F, then rotate the pie. Continue baking until crust is deep golden brown and a paring knife can be easily inserted into apples, 20 to 25 min. Cover with foil if browning too quickly. Cool on rack for at least 2 hr.
Image courtesy: chatelaine. com / images are subject to copyright