The Chronicles of 'Turkish Delight' !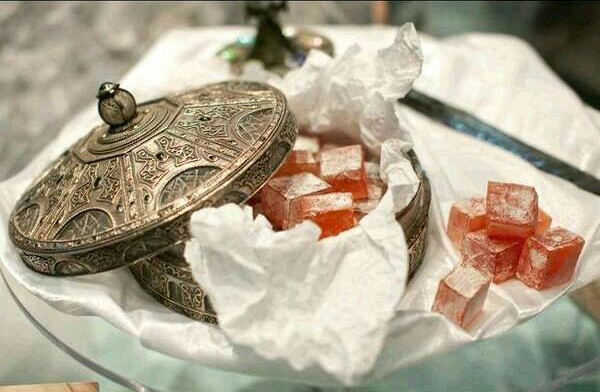 The yummy scene of White Witch's 'Turkish Delight' is never forgettable by the 'Narnia' fans. The Chronicles of Narnia – The Lion, The Witch, The Wardrobe and of course, The 'TURKISH DELIGHT' ! Here comes the delicious recipe of 'Turkish Delight', from the evergreen movie 'The Chronicles of Narnia'.
Ingredients:
Sugar : 2½ cups
Cornstarch : 1¼ cup
Water : 2¼ cups
Lemon juice : 3 tablespoons
Pistachios : 3½ oz.
Hazelnuts : 3½ oz.
Orange blossom water : 1 tablespoon
Rose water : 1 tablespoon
Liquid food coloring
Cornstarch : 1 cup
Icing sugar : 1 cup
Preparation:
Before the preparation of the dough itself, take two 6×6 inch molds or boxes with parchment paper (or wax paper). Brush the paper lightly with oil. Spread cornstarch at the bottom of each mold or box lined with parchment paper. Roast the pistachios and hazelnuts seperately for a few minutes in a hot pan. Put them aside.
Boil 1 cup of water and add into it the sugar and lemon juice. Keep a medium flame. wait till the foam forms. Continue cooking until the sugar mixture reduces and thickens but before it changes to a caramel color.
Check on the sugar syrup. The syrup should not cover the bottom of the pan back too quickly as it should not be too liquid. In a bowl, mix 1¼ cup of corn starch with 1¼ cup of cold water and stir well to completely dissolve the cornstarch in the water. Then add this mixture to the syrup prepared above. Reduce heat to low and stir constantly. The mixture will slowly thicken and become more difficult to mix. Stir continuously.
The preparation is ready when it is completely detached from the bottom of the pan. It can take between an hour and an hour and a half. Divide dough into two equal parts. In the first, add a tablespoon of orange blossom water, the roasted pistachios and desired coloring and stir well.
In the second, add a tablespoon of rosewater, roasted hazelnuts. Divide each dough into molds or boxes and smooth the surface as much as possible.
Cover with aluminum foil. Let it dry for 24 hours. Turn the dough over and cut into squares with a large smooth knife. To facilitate cutting, coat the knife with oil with a brush before each slicing.
Pour the small cups of powdered sugar and cornstarch in a dish and mix well. Roll each cut square in this mixture once, then again. You can also put the sugar and cornstarch mixture in a freezer bag and add the squares of Turkish delights in small quantities and mix well to coat completely. Since we are covering the Turkish with a mixture of icing sugar and cornstarch, the color will fade quite a bit. So adding a bit of color will be a good option.
Image courtesy: hungryforever. com / images are subject to copyright