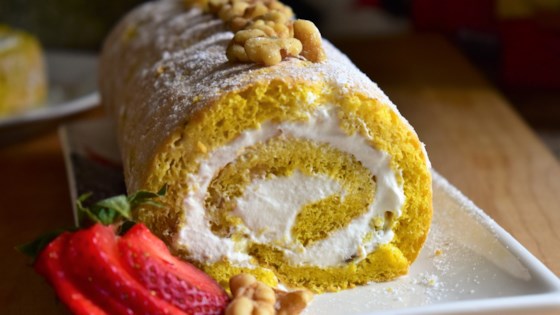 Ingredients:
Vanilla extract: 1 tsp
Egg whites: 4 nos
Egg yolks: 4 nos
Salt: 1/2 tsp
White sugar: 1/2 cup
Sifted enriched flour: 1/4 cup
Chopped walnuts: 1/2 cup
Heavy cream (cold): 1 cup
Sifted confectioners' sugar: 1 tbsp
White sugar: 1 tbsp
Walnut halves: 1 tbsp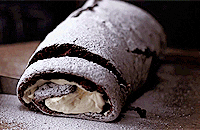 Preparation:
Preheat the oven to 190 degrees C. Take a jelly roll pan and put a waxed paper on its bottom. Beat well the egg whites, vanilla extract, and salt in a large bowl until soft peaks form. Beat in 1/2 cup white sugar gradually until combined.
Beat the egg yolks in a separate bowl. Mix it well until it becomes thick and yellow colored. Fold into egg white mixture. Fold in chopped walnuts and flour gently until combined. Spread the batter into the prepared jelly roll pan.
Bake it in the preheated oven, about 12 minutes. Test it by inserting a toothpick in to the center. If it comes out neatly, the baking is perfect. Let it cool for 5 minutes after removed from the oven.
put it on a towel sprinkled with sifted confectioners' sugar. Peel off wax paper and let cool to lukewarm, 5 to 10 minutes. Roll the cake and towel together. Leave it for cooling for about 15 to 20 minutes.
While cake cools, mix cold heavy cream and 1 tablespoon white sugar in a large bowl using an electric mixer. Unroll the cake and spread the whipped cream on it. Re-roll the cake. Put it in refrigerator for at least 30 minutes.
Use dollops of whipped cream and walnut halves for topping. Serve it sliced.
Image courtesy: allrecipes .com / images are subject to copyright