Badam Kulfi – A delightful Indian Dessert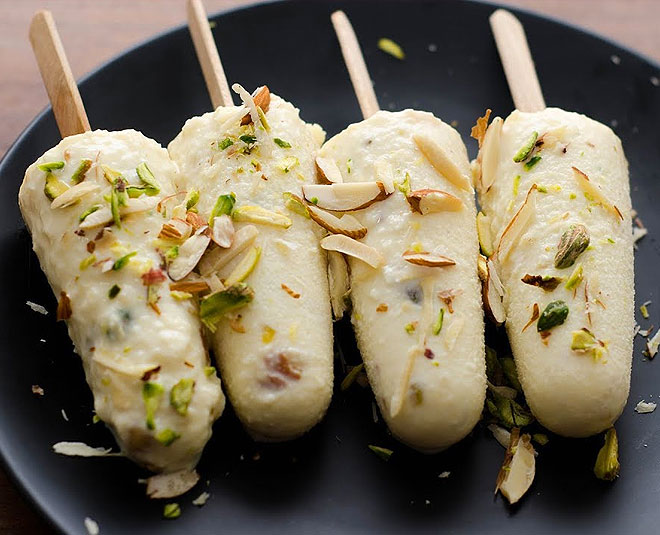 Ingredients:
Peeled and ground almonds: 2 cups
Condensed milk : 2 cups
Milk: 1/2 cup
Fresh Cream: 8 tbsp
Saffron strands: 10 to 15
Pistachios: 6 pieces
Blanched almonds: 2 tbsp (For garnishing)
Preparation:
In a large bowl, add the ground almonds, cream and condensed milk and them together until thick. Save it for later. Take milk in a saucepan and heat it over high flame to boil. When it starts boiling, add the saffron strands to it. Mix it well and remove it from the flame. Let it cool.
Then, add the previously prepared almond mixture into it and blend well, until it reaches a thick and creamy consistency. Heat another pan over moderate flame and add coarsely chopped pistachios and almonds in to it and dry roast them for few seconds.
Add this to the Kulfi mixture, saving a little of this for final garnishing. Mix well and pour the mixture into the kulfi moulds of your choice. Cover the top with a butter paper. Keep it in the freezer until it is set.
When it is set, remove it from the mould and sprinkle some of the reserved pistachios and almonds. Serve it chilled and enjoy!!
Image courtesy: herzindagi .com / images are subject to copyright