Roll Some Yummy Italian Choc-Berry Roulade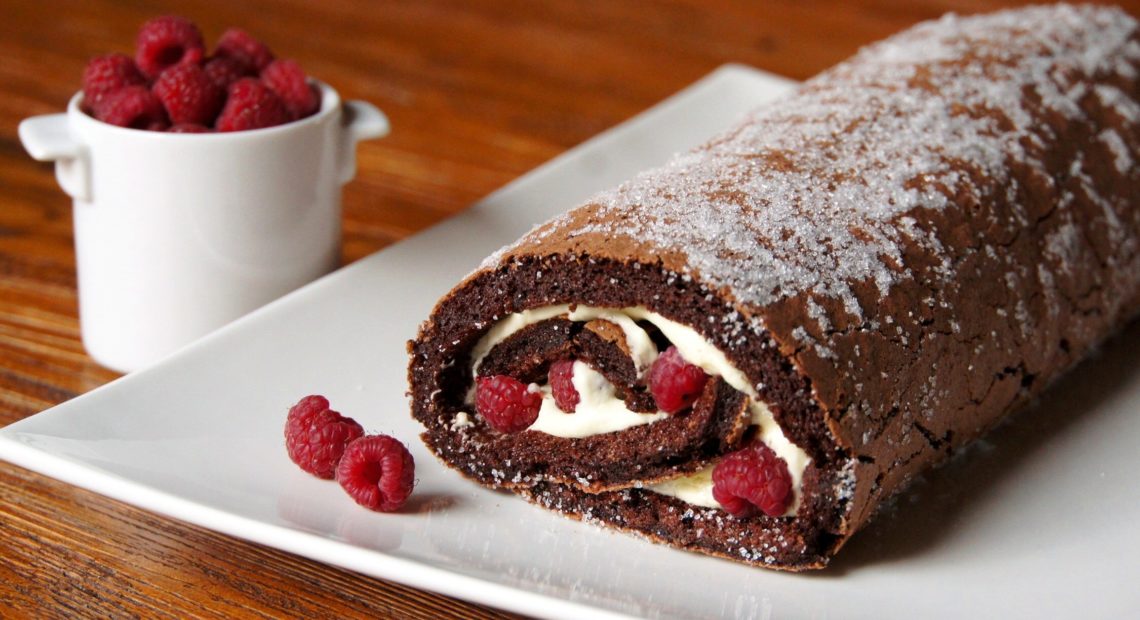 Ingredients:
Cream of tartar: 1 tsp
Dutch cocoa powder: 1 tbsp
Egg whites, at room temperature: 6 nos
Cornflour: 1 tsp
Caster sugar: 1 1/3 cups (295 g)
Finely chopped dark chocolate: 50 gm
Balsamic vinegar: 1 tsp
Icing sugar
Preparation:
Sift the cream of tartar, cocoa, and cornflour into a bowl and mix it well. Add a small pinch of salt into it. Mix it well and set aside. Whisk the egg whites in a large bowl with electric beaters until frothy.
Gently add the caster sugar, 1 tbs at a time, beating constantly. Make sure that the mixture is stiff and glossy. Add the balsamic and cocoa mixture to the meringue mixture and beat until well combined. Fold in the chocolate. Pour the mixture into a tray. Bake for 25 minutes, until it becomes firm and springs back when gently touched. Cool it for 5 minutes.
Slightly wet a towel with water. Grease a sheet of baking paper with oil and place it, oil-side down, over the sponge. Cover it with the tea towel. Gently invert the sponge (leaving the bottom layer of baking paper on the sponge) onto the baking paper and tea towel.
Slowly roll into a log from one long side using the tea towel. Set it aside for cooling. For filling, whisk mascarpone and cream until stiff peaks form. Add kirsch and sugar and mix well.
Slowly unroll the sponge. Gently remove the tea towel and top layer of baking paper. Spread cream mixture over the sponge and scatter three-quarters of the almonds on top. In a bowl, combine the berries and scatter three-quarters over the cream. Roll up tightly to enclose the filling, Peeling the sponge away from the bottom layer of baking paper.
Place it in a serving dish. Spread remaining cream mixture on top of the Roulade and top with remaining almonds and berries. Dust it with icing sugar before serving!
Image courtesy: sweetlana. net / images are subject to copyright