Hot Pepper Salmon – A Spicy Twist !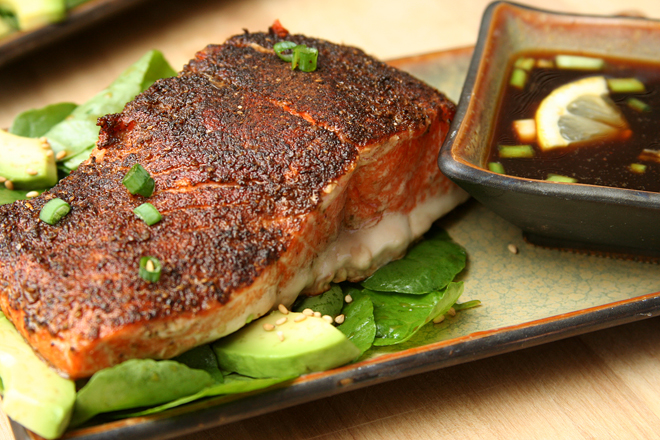 Ingredients:
5 ounce baby spinach
Cooking spray
2 teaspoons lemon juice
2 teaspoons lime juice
1 teaspoon chipotle powder
10 ounce diced tomatoes with green chile peppers
1 red onion, chopped
2 jalapeno peppers, chopped
2 habanero peppers, chopped
2.2 ounce sliced black olives
8 ounce salmon fillets
Preparation:
Preheat the oven to 200 degrees C. Apply the cooking spray in a baking dish. In a large bowl, mix spinach, 1 teaspoon lemon juice, 1 teaspoon lime juice, and 1/2 teaspoon chipotle powder. Cover the bottom of the baking dish with the mixture. Set it aside.
Mix thoroughly the tomatoes, red onion, jalapeno peppers, habanero peppers, black olives, remaining lemon juice, remaining lime juice, and remaining chipotle powder together in a large bowl. Place the salmon fillets on top of spinach in the baking dish and top with tomato mixture. Bake it in the preheated oven for about 14 minutes. Test the consistency with a fork. Take it out and serve hot!
Image courtesy: keeprecipes.com/ images are subject to copyright