Ukraine war: Rishi Sunak visits President Zelensky in Kyiv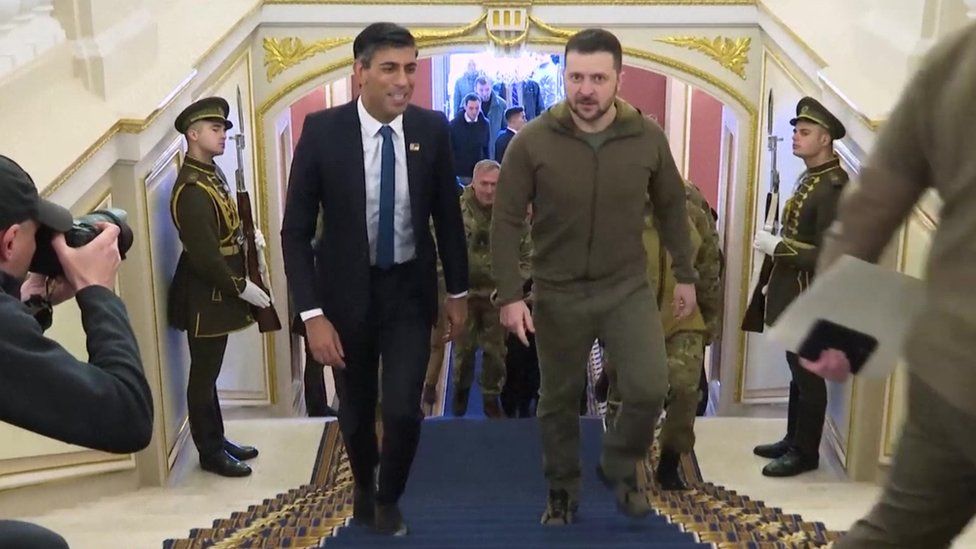 In his first trip to Kyiv as prime minister, Rishi Sunak met with Ukraine's President Volodymyr Zelensky and committed £50 million in defence assistance.
According to No. 10, the meeting was organised to demonstrate "continuing UK support" for Ukraine.
Following the meeting, Mr. Zelensky posted on Telegram, "We discussed the most significant topics, both for our countries and for world security."
He continued, "We are stronger, and we will get the desired outcomes.
Mr. Sunak, who assumed his position last month, described his visit to Kyiv as "very humbling" and promised that the UK would continue to support Ukrainians in their struggle.
During the meeting with Mr Zelensky, he said the UK would provide a major new package of air defence to help protect Ukrainian civilians and the country's national infrastructure from Russian strikes.
As a result of frequent Russian aircraft raids on Kyiv and other parts of the country, Ukraine has recently asked for assistance from Western countries.
125 anti-aircraft guns, technologies to combat lethal drones supplied by Iran, several radars, and anti-drone electronic warfare capacity are included in the £50 million defence aid package.
It follows the announcement of more than 1,000 additional anti-air missiles made earlier this month by UK Defense Secretary Ben Wallace.
Earlier that week, only days after being ordered to evacuate its forces from Kherson, Russia launched one of its heaviest missile barrages against Ukraine.
Strikes occurred all over the nation, from Chernihiv in the north to Lviv in the west, including in Kyiv.
That attack coincided with the G20 summit in Bali where, in a virtual speech, Mr Zelensky said he was "convinced now is the time when the Russian destructive war must and can be stopped".
By sending skilled army physicians and engineers to the area to provide specialised support, Mr. Sunak indicated that the UK will also boost the training offer to the Ukrainian armed forces.
The British prime minister visited Kyiv and paid his respects at a war memorial and a memorial for those who perished in the Holodomor famine. He then spoke with first responders at a fire station. Mr. Sunak also observed drones of Iranian manufacture that had recently been used to target and bomb civilians in Ukraine.
Picture Courtesy: Google/images are subject to copyright