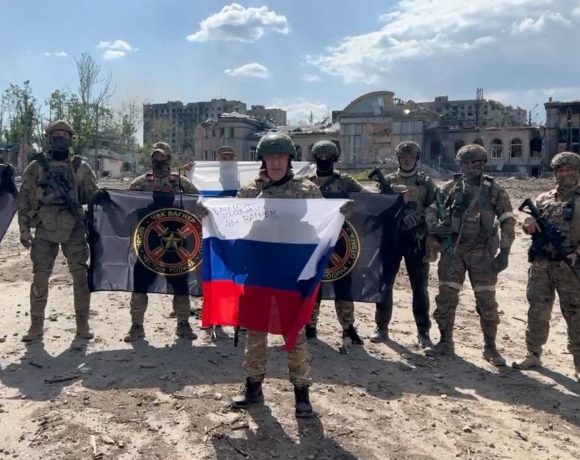 Russian Private Military Contractor, Wagner Group's Leader Yevgeny Prigozhin Claims Control of Military Sites in Rostov-on-Don, Defying President Putin's Accusations of Betrayal
Yevgeny Prigozhin, the head of the Russian private military contractor Wagner Group, has asserted that his mercenaries have taken over "all military facilities" in the southern city of Rostov-on-Don. Reports suggest that they have also been deployed in Voronezh, located further north, following Prigozhin's threat to march on Moscow and remove Defense Minister Sergei Shoigu from power.
President Vladimir Putin has condemned these actions, referring to them as a "stab in the back" and vowing to punish those who have "betrayed" Russia. Security measures have been tightened in numerous regions, including Moscow.
The Wagner Group, known for its involvement alongside the regular Russian army in the conflict in Ukraine, has been experiencing increasing tensions with the military leadership over their differing approaches to the war. Prigozhin has been openly criticizing Russia's military command in recent months.
The situation escalated dramatically after Prigozhin accused the Russian military of targeting his group's base in Ukraine, a claim that Moscow denies.
Prigozhin insists that this is not a military coup, but rather an attempt to overthrow Russia's military leadership. However, President Putin, in his address, described the situation as an act of "treason."
While Prigozhin was not mentioned by name, President Putin warned that those who engaged in betrayal, armed rebellion, blackmail, or terrorist methods would face severe consequences under the law and before the Russian people.
In response, Prigozhin, for the first time directly criticizing the Russian leader, stated that his troops were "patriots of our motherland" and argued that President Putin was "profoundly mistaken" to accuse them of betrayal.
In a video shared on his Telegram channel, Prigozhin claimed that his fighters had entered Rostov-on-Don after crossing the border from Ukraine, asserting that his forces would eliminate anyone obstructing their path. However, the location and veracity of his claim regarding shooting down a Russian military helicopter that allegedly fired upon a civilian convoy remain unverified.
President Putin acknowledged the challenging situation in Rostov-on-Don, where Wagner forces reportedly control military installations. The city of Voronezh, en route to Moscow, is also said to be under their control, prompting the governor to initiate a "counter-terrorism operation."
Previously, Prigozhin and President Putin had a close relationship. However, this latest challenge, combined with the complications arising from the Russian invasion of Ukraine, has presented a headache for the Russian leader. Consequently, Putin has taken a firm stance, declaring "enough is enough."
Picture Courtesy: Google/images are subject to copyright