Berlin: One dead and others hurt as car drives into pedestrians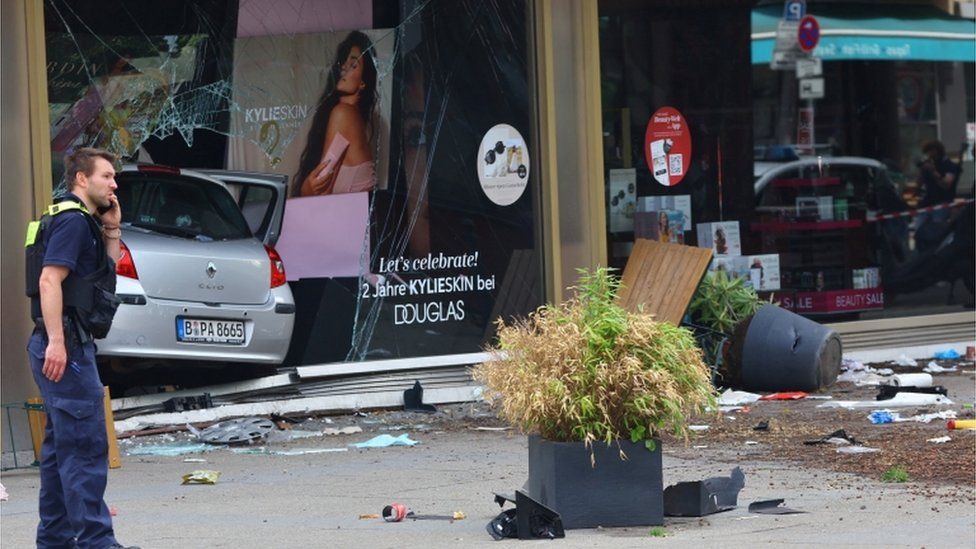 A car slammed into a crowd on a busy Berlin street, killing at least one person and injuring eight others. It's unclear whether the incident, which occurred around 10:30 a.m. local time (08:30 a.m. GMT), was intentional or unintentional, according to emergency officials.
The driver was arrested at the scene, according to a police spokesperson. The incident occurred in western Berlin, on one of the city's busiest shopping streets. According to reports, the vehicle veered off the road and climbed the sidewalk before crashing into a storefront.
A silver Renault Clio crashed through a display window in a cosmetics store, according to images from the scene. There are also photos of what appears to be a body in the middle of the road, covered in blankets.
According to Berlin police, around 130 emergency workers are on the scene. Mayor Franziska Giffey of Berlin said on Twitter that she was "deeply affected" by the incident and that "police are working flat out to clarify the matter."
"Throughout the day, I'll get a sense of the situation on the ground. I'd like to express my gratitude to the more than 130 emergency services who responded quickly and provided care to those who were affected "she continued.
The actor John Barrowman tweeted that he was nearby when the incident occurred, and that the car had repeatedly mounted the footpath before crashing into the storefront, according to a video posted from the scene.
"The police presence is astounding. They're removing the debris from the area "", said the actor. "Right now, helicopters are flying in to airlift people." The incident occurred near the busy intersection of Rankestrasse and Tauentzienstrasse in west Berlin.
The area is directly across from Breitscheidplatz, where a truck driver deliberately drove his lorry into a crowd of people at a Christmas market, killing 12 people.
The attack, which was carried out by an unsuccessful asylum seeker, was later claimed by IS. Italian police shot and killed the assailant later.
Picture Courtesy: Google/Images are subject to copyright