Turkey condemns 'vile' Sweden Quran-burning protest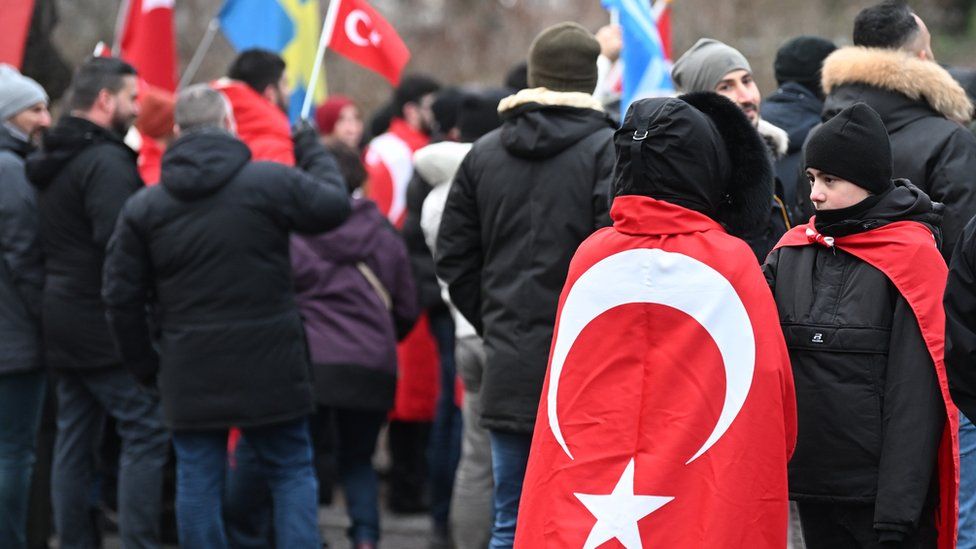 Turkey has denounced as a "vile act" the burning of a copy of the Quran during a protest in Sweden. The statement referred to the Swedish government's decision to permit the protest as "absolutely reprehensible."
It happens while diplomatic tension between the two nations is rising. A visit by Sweden's Defence Minister, Pal Jonson, was cancelled earlier after Turkey, which had pleaded with Sweden to put an end to the demonstration, claimed the trip had "lost its purpose and meaning."
The trip was intended to allay Ankara's concerns over the Scandinavian nation joining the Nato military alliance. Both Sweden's and Finland's applications to the NATO have so far been delayed by Turkey.
Recep Tayyip Erdogan's detractors and the Kurds it accuses of being terrorists are among the political concessions Turkey seeks. Turkey is already a member of NATO, thus it has the power to prevent another nation from entering. After Russia invaded Ukraine, both Sweden and Finland submitted applications to join NATO.
A copy of the Quran was set on fire by Rasmus Paludan, a member of the extreme right-wing Stram Kurs (Hard Line) party, during the demonstration on Saturday afternnon in front of the Turkish embassy in Stockholm. Muslims believe the Quran as a sacred text from God and find it highly insulting when it is intentionally harmed or treated disrespectfully.
Turkey is a predominantly Muslim nation. The crime, according to a statement from the Ministry of Foreign Affairs, occurred "despite numerous warnings." It stated that it was totally unacceptable to allow this anti-Islam conduct, which attacks Muslims and denigrates our fundamental principles, under the cover of "freedom of expression."
It continued by saying that the burning of the Quran was just another illustration of the "alarming" degree to which racism, bigotry, and Islamophobia had spread throughout Europe, and it urged the Swedish government to take "required actions." Tobias Billstrom, Sweden's foreign minister, referred to the behaviour as "appalling."
Stockholm also saw separate demonstrations both in favour of and against Turkey. Our relationships with Turkey are very important to Sweden, and we look forward to continuing the dialogue on mutual security and defence matters at a later time, Mr. Jonson tweeted after Turkey cancelled the Swedish defence minister's trip.
In an effort to undermine Sweden's NATO application, protesters hung an effigy of President Erdogan from a lamppost in Stockholm last week, according to Sweden's prime minister. At rallies last year, Mr. Paludan made threats to burn the Quran, setting up clashes.
Picture Courtesy: Google/images are subject to copyright