France firefighters battle 'monster' wildfire near Bordeaux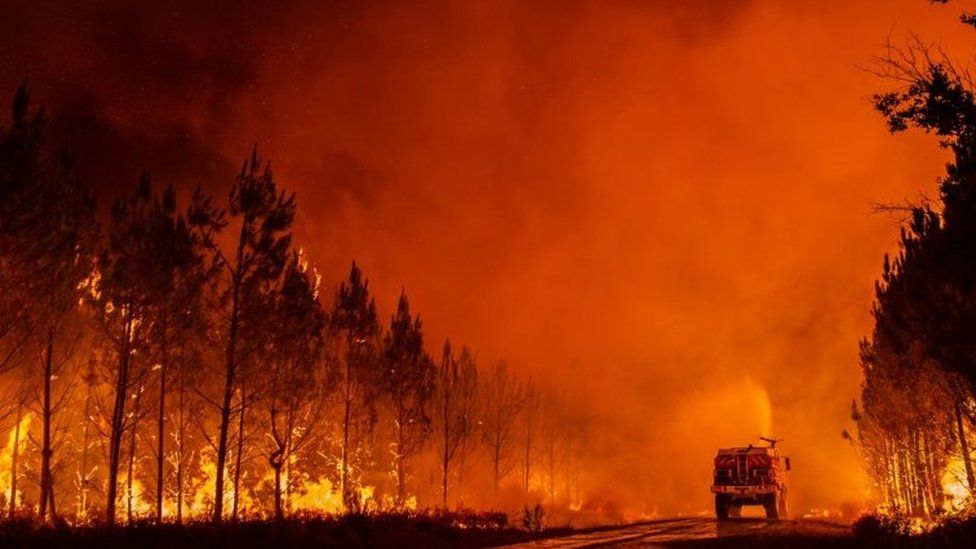 Almost 7,000 hectares (17,300 acres) of woodland have already been burnt by a "monster" wildfire in southwest France, according to officials. A number of homes have been destroyed by the raging fire nearby Bordeaux, which has also compelled 10,000 locals to escape.
Gregory Allione, a firefighter spokesperson, told France's RTL Radio that "it's an ogre, it's a monster." The firefighting effort is being hampered by strong winds and hot heat. Austria, Germany, Greece, Poland, and Romania, according to President Emmanuel Macron, "are coming to aid" France in putting out the fire. He tweeted, "European solidarity at work!"
Several other European nations, including France, have experienced a wave of catastrophic wildfires this summer as a result of the continent-wide drought and high heat. In Portugal and Spain, the heat has been blamed for more than 1,000 fatalities.
With temperatures expected to reach 37C (99F) in some regions over the next four days, the UK has now issued an amber extreme heat warning. The officials warn that the heatwave would likely have an impact on transportation, working conditions, and health. About 30 kilometres (19 miles) south-east of Bordeaux, in the Gironde region of France, a sizable wildfire has been burning for the past two days close to the community of Landiras.
Picture Courtesy: google/images are subject to copyright