Plan a trip to the colourful nation – Barcelona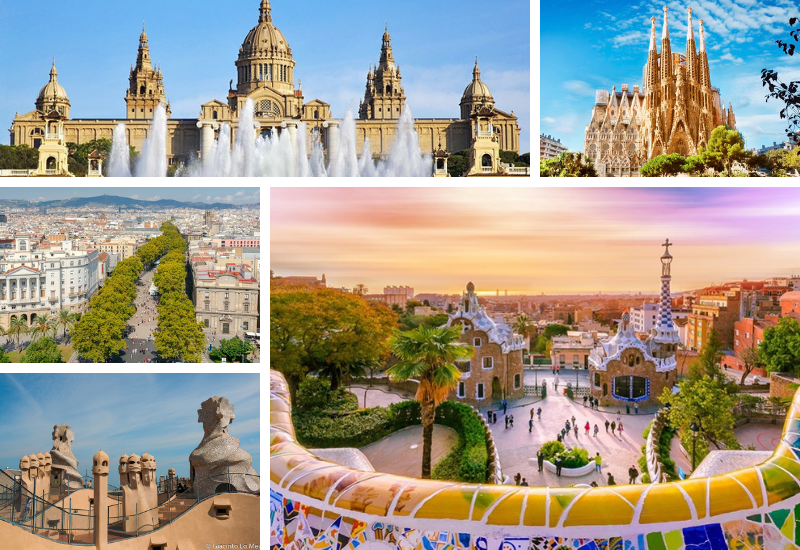 Barcelona is the capital and largest city of Catalonia, as well as the second most populous municipality of Spain. Barcelona is the sixth most populous urban area in the European Union after Paris, London, Madrid, the Ruhr area and Milan.
It is a colourful city with fanciful architecture. Barcelona is one of the world's leading tourist, economic, trade fair and cultural centres. Lets have a look at some of the tourist spots.
La Sagrada Familia
La Sagrada Familia is a large unfinished Roman Catholic church in Barcelona, designed by Catalan architect Antoni Gaudi. The Basilica of the Sagrada Familia was the inspiration of a bookseller, Josep Maria Bocabella, founder of Asociacion Espiritual de Devotos de San Jose. This giant Basilica that has been under construction since 1882, and it's not expected to be completed for some time yet.
Park Guell
The Park Guell is a public park in Barcelona, designed by famous architect Antonio Gaudi. The Park Guell was not originally planned to be a park, but was meant for a modern housing estate but was officially opened as a public park in 1926. This park is now composed of gardens and architectonic elements located on Carmel Hill.
Casa Batllo
Casa Batllo is a building in the center of Barcelona. It was designed by Antoni Gaudi, and is considered one of his masterpieces. It is a UNESCO World Heritage site and a legend of architecture and design. While looking at its design, it seems that the goal of the designer was to avoid straight lines completely. Much of the facade is decorated with a mosaic made of broken ceramic tiles of mostly golden orange and greenish blue colours.
The Museu Nacional d'Art de Catalunya
The Museu Nacional d'Art de Catalunya (National Art Museum of Catalonia) is situated on Montjuic hill. It has an outstanding collection of romanesque church paintings, and for Catalan art and design from the late 19th and early 20th centuries, including modernisme and noucentisme. The major attractions are: Romanesque art, Gothic art collection, Renaissance and Baroque art collection, The Cambo Bequest, Thyssen Bornemisza collection, Modern art collection, The Carmen Thyssen Bornemisza collection and the Cabinet of drawings and prints.
Sunaya Paison
Photo Courtesy: Google/ images are subject to copyright