Go Green With Some Italian Salads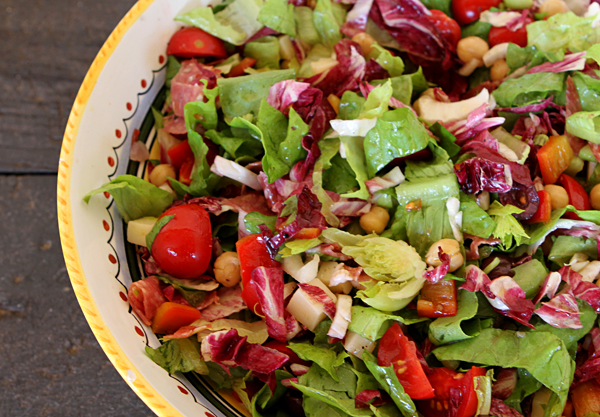 Salads are always preferred for the healthy diet. Lets make some tasty Italian green salad!
Ingredients
1 garlic clove, smashed
Salt
2 tablespoons mayonnaise
2 tablespoons red wine vinegar
1/2 teaspoon dried oregano
1/4 cup plus 2 tablespoons extra-virgin olive oil
Freshly ground pepper
1 large romaine heart, chopped
1 small head of radicchio—halved, cored and coarsely chopped
1/4 head of iceberg lettuce, coarsely chopped
1 tender celery rib, thinly sliced
1/2 small red onion, thinly sliced
1/2 cup cherry tomatoes
1/4 cup pitted green olives, preferably Sicilian
8 peperoncini
2 ounces Parmigiano-Reggiano cheese, shaved (1 cup)
Preparation
Mash the garlic to a paste with a generous pinch of salt, in a large bowl. Whisk in the mayonnaise, vinegar and oregano, then whisk in the olive oil. Season with pepper. Add all of the remaining ingredients and toss well. Serve right away.
Photo Courtesy: Google/ images are subject to copyright