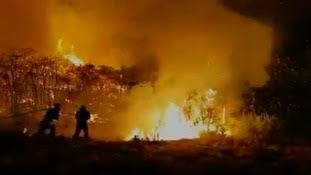 A severe wildfire has rip through Gran Canaria in the Canary Islands. More than 9000 people have been evacuated from the place.
The fire started on Friday and is taking control over two fronts in a mountainous area of the island. The incident was "an unprecedented environmental tragedy", said the authorities to the media.
Authorities said that the attempts to control the fire is being very difficult due to the high temperatures, strong winds and low humidity.
For this, around 14 planes and helicopters, as well as about 700 firefighters on the ground including 200 from the military have been deployed to the area.
Angel Victor Torres, the Canary Islands regional president said, "The fire is not contained nor stabilised or controlled".
The residential areas and tourist spots have not been affected by the flood till now. But, Tamadaba natural park of the island and some of the island's oldest pine forests have been affected.
Image courtesy: itv .com / images are subject to copyright