Antonio Conte it is 'embarrassing for everybody' after fan threw banana at Richarlison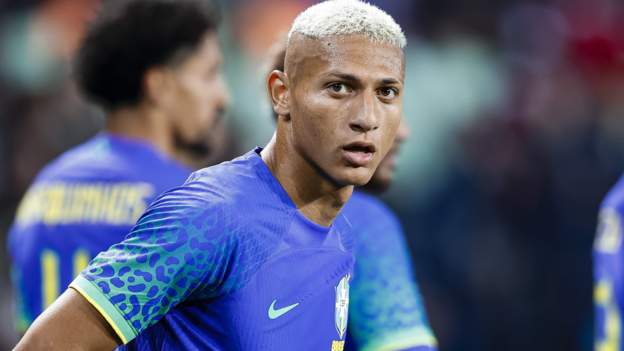 It is "embarrassing for everyone," according to Tottenham manager Antonio Conte, because Richarlison was targeted by a banana during a friendly match between Brazil and Tunisia. When the incident happened in Paris on Tuesday, the Spurs forward was celebrating a goal.
Conte demanded that the offending spectator receive a lifetime ban from football. Conte remarked, "What happened when Richy played for the national team and scored a goal is extraordinary. Being present for a situation like this in 2022 is embarrassing for everyone. The event is under investigation, and Fifa has stated that it has a "clear, zero-tolerance attitude" against racism.
Conte continued, "I hope this guy can receive a lifetime ban from playing football, but it is a circumstance that is very disappointing to make a comment about this."
"As long as it's 'blah blah blah' and they don't punish, it will continue like this," Richarlison tweeted after the game. "[Racism] occurs everywhere and every day. No time, buddy.
Before the game began, Brazil posed with an anti-racism flag and lined up with the words: "Without our black players, we wouldn't have stars on our shirts."
In a statement, the Brazilian Football Confederation (CBF) said it "reinforced its position to combat racism" and "repudiates any display of prejudice".
Tottenham also condemned the the abuse and offered Richarlison support: "This has no place in football, or anywhere. We stand with you, Richy."
Picture Courtesy: Google/images are subject to copyright