Ukraine war: Zelensky accuses Russia of plot to blow up dam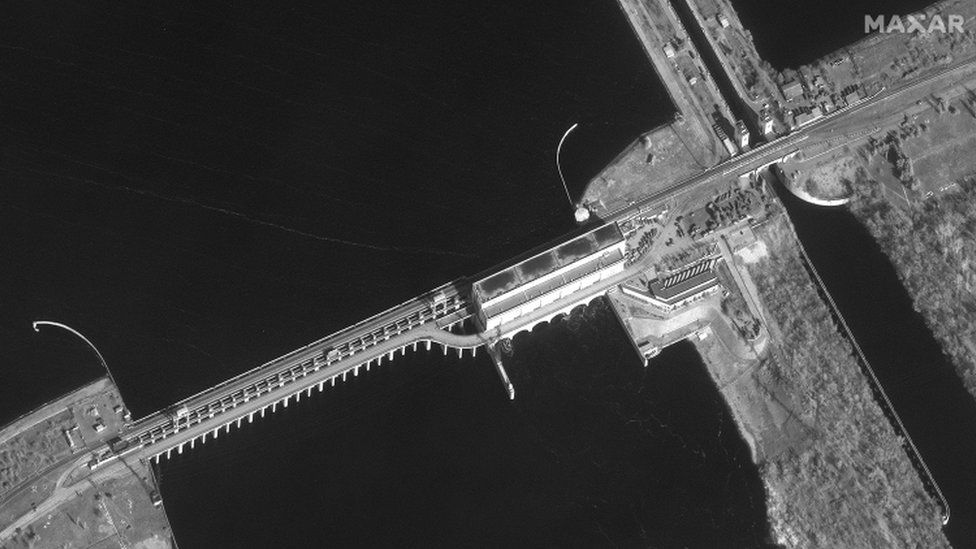 Volodymyr Zelensky, the president of Ukraine, has charged that Russia is planning to blow up a dam at a hydroelectric plant in southern Ukraine, causing a "large-scale calamity."
In his nocturnal speech, he claimed that, in accordance with Ukrainian information, Russian forces had mined the Kakhovka dam on the Dnieper river.
Russian forces are in control of the dam, but Ukrainian forces are closing closer.
Ukraine has already been charged by Russia with launching missiles at the Kakhovka dam.
In the partially occupied Kherson region, the dam gives Russia access to one of the few surviving Dnieper river crossings.
Authorities in Kherson that were imposed by Russia have denied Ukraine's claims that a plot to demolish the building has been made. They attributed a strike on the Antonivskiy crossing, another crucial bridge, to Ukrainian forces.
This week, Russia began withdrawing its proxies in Kherson, but it also announced that 50–60,000 civilians would follow, a move that Kyiv authorities have denounced as being equivalent to forced deportations.
In Kherson city and the hydroelectric dam, according to Gen Sergei Surovikin, Russia's new military commander, Ukrainian forces may be preparing to use "prohibited tactics of warfare," which would necessitate the "evacuation" of civilians.
An independent US think tank called the Institute for the Study of War has claimed that Russia is "likely continuing to prepare for a false flag attack" on the Kakhovka hydroelectric plant by setting up "information conditions" for Russian forces to blow up the dam after they withdraw from western Kherson and then accuse Ukraine of flooding the river and nearby settlements.
Picture Courtesy: Google/images are subject to copyright