Ukraine war: Russian soldiers' bodies are dumped near Kyiv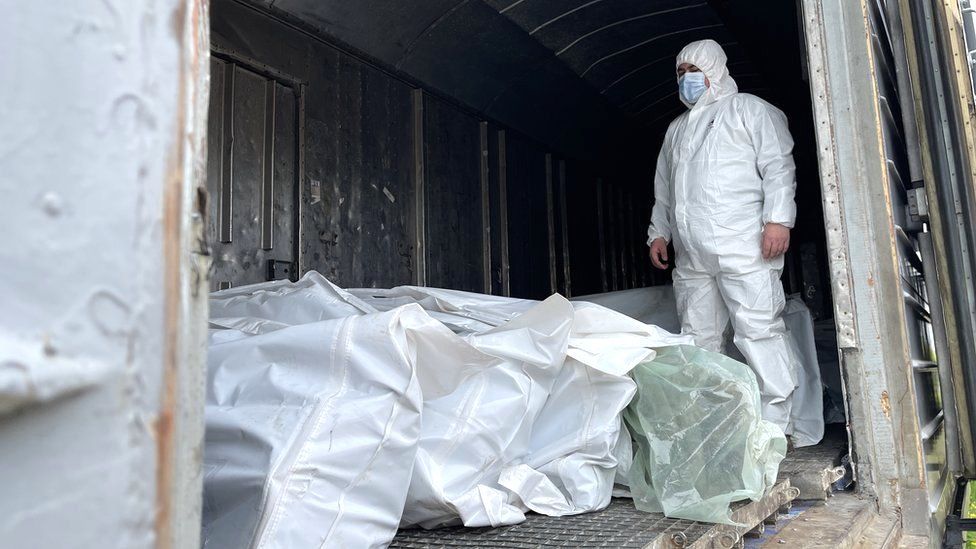 Villagers in Zavalivka called the authorities after their dogs began digging incessantly in the woods.
The topsoil was carefully removed by a Ukrainian military team wearing white protective suits. They discovered a man's body, lying face down with his legs twisted strangely beneath him. His uniform indicated that he was a Russian soldier.
Russian troops' remains are still being discovered in and around the villages they passed through or occupied near Kyiv, weeks after they failed to seize Ukraine's capital. However, Ukraine claims that Russia is uninterested in returning them.
The body was taken from its grave in the woods to a refrigerated train on the outskirts of Kyiv, which now serves as a mobile morgue for the Russian dead. The white plastic sacks are labelled with numbers rather than names, and on the day we visited, there were at least 137 stacked inside two carriages.
The Ukrainians try to identify the dead: the forensics team discovered two bank cards and badges for a Russian motorised rifle brigade on the body that was just brought in.
"At least this one has a chance of getting home," the man in charge said as he displayed the finds, which included a soiled T-shirt with the Army of Russia logo printed on it.
I confirmed that the man I had just seen exhumed was a young, married soldier from Siberia a few moments later. A carefully posed black-and-white photograph from his social media profile stared out from my phone next to his body bag.
"We don't abandon our own," Russia proudly proclaims. It's a big part of President Vladimir Putin's pretext for invading Ukraine, where he falsely claimed Russian-speakers required protection.
This pledge does not appear to apply to Russian soldiers.
"The bodies we've discovered show they treat people like garbage, like cannon fodder," Col Volodymyr Liamzin told the BBC. "They don't require their troops. They throw them here, then flee, leaving the bodies behind."
Russian soldiers are being urged to surrender and save their lives, while Ukrainian children are being sacrificed.
After the battle, the village elder claims he and others buried the Russians "for sanitary reasons." When I ask why, he says most of them were blown to bits.
He wasn't allowed to show us the graves because they are a crime scene until Col Liamzin's team visits and exhumes the site. However, his to-do list is already lengthy.
Picture Courtesy: Google/Images are subject to copyright