Ukraine war: Poland says missile deaths an unfortunate incident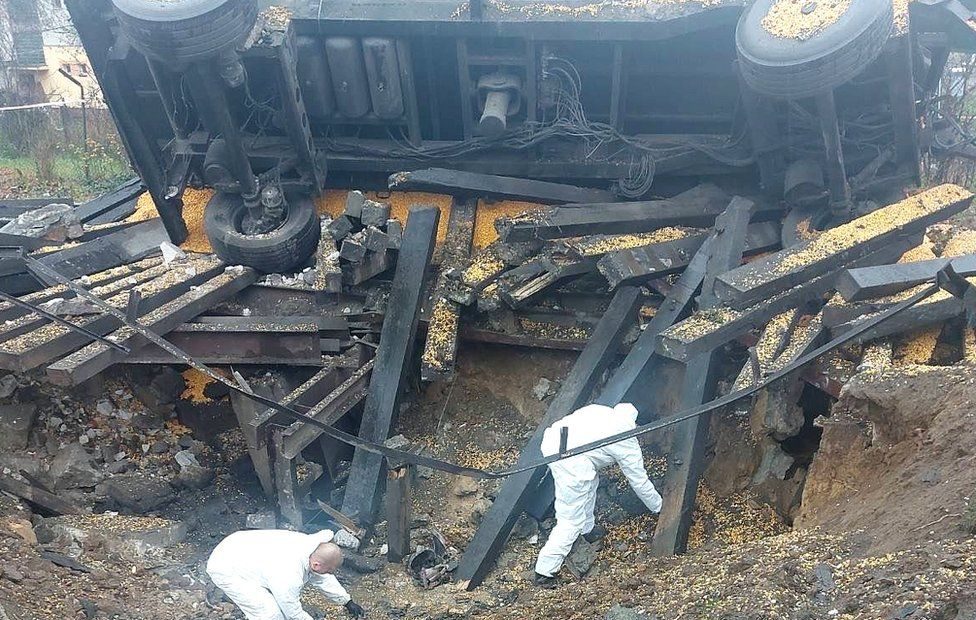 After a missile strike killed two people on a farm close to Poland's western border with Ukraine, Andrzej Duda, the president of Poland, declared that there are no indications of an intentional attack.
US Vice President Joe Biden had earlier stated that it was "unlikely" that the missile had been launched from Russia.
The two employees perished as Ukraine came under attack from one of the war's heaviest volleys of missile strikes.
The Kremlin had maintained that it was unrelated to their demise.
The missile that struck the farm in Przewodow, 6 kilometres (4 miles) from the border, was initially attributed to Russia, according to Poland.
Russian spokesperson Dmitry Peskov claimed Warsaw should have quickly made it obvious the debris was from Ukraine's S-300, accusing Western nations of having an exaggerated response.
Both Russia and Ukraine employ the outdated Soviet surface-to-air missiles, and Kiev declared its desire to participate in the probe while also indicating that it was prepared to present proof of a "Russian trail" in the attack.
According to Paul Adams of the BBC, Ukraine's air defences have been working hard to shoot down Russian missiles, and one of the missiles that was fired may have been thrown off course. The NATO ambassadors gathered in Brussels during the investigation to discuss how to respond to a member state becoming involved in Russia's war.
No evidence, according to Secretary General Jens Stoltenberg, suggested that the incident was the product of a planned strike or that Moscow was contemplating aggressive measures against the defensive alliance.
According to Kiev, more than 90 Russian missiles were launched against Ukraine on Tuesday. Some of the missiles struck Lviv, which is close to Ukraine's western border with Poland, despite the Ukrainian military's claim that 77 were shot down.
The majority of the rockets fired by Russian forces, according to Ukrainian President Volodymyr Zelensky, were intended against the nation's energy infrastructure.
The S-300 missile, which was built in Russia, was most likely to blame, but there was no proof that it had been fired by the Russian side, according to Polish President Duda, who said this at a press conference on Wednesday. Invoking Article 4 of the NATO charter, which mandates consultations in the event of a security danger, may not be required, according to Prime Minister Mateusz Morawiecki.
Picture Courtesy: Google/images are subject to copyright