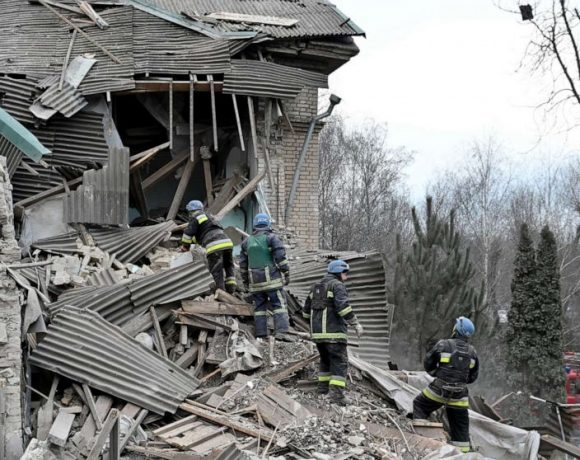 According to rescue officials, a newborn baby has been killed in a Russian missile attack on a maternity centre in southern Ukraine's Zaporizhzhia area. A doctor and the baby's mother, who was the only woman in the building at the time, were extricated from the wreckage.
Volodymyr Zelensky, the president of Ukraine, charged that Russia had brought "horror and bloodshed" to his nation. An important nuclear reactor is located in the Zaporizhzhia region, which has been the target of numerous Russian strikes.
The hospital's maternity wing was hit by Russian missiles overnight, according to Ukrainian emergency services, in the town of Vilnyansk, which is still under Ukrainian control. Although Ukraine controls the territory, the entire Zaporizhzhia region has been annexed by Russia as a result of phoney referendums held in September.
Earlier on Wednesday, Kupiansk, a town in the Kharkiv region that was retaken by Ukrainian forces in September, was the target of bombardment that resulted in the deaths of two civilians, according to Ukrainian officials.
President Zelensky accused Russia of trying to "accomplish with violence and murder what it was unable to do for nine months" on the battlefield in remarks made following both attacks.
Throughout the nine-month conflict, Russia has attacked a number of hospitals, including one in Mariupol that resulted in the deaths of three people, including a toddler, in March. At the time, Russia claimed that the strike had been faked.
The World Health Organization has documented 703 attacks on health infrastructure since Russia's invasion began on 24 February – it defines an attack as involving violence as well as threatened violence against hospitals, ambulances and medical supplies.
Russian commanders were probably use unmanned aerial vehicles (UAV) built in Iran, the UK Ministry of Defence claimed on Wednesday, to "prioritise medical facilities as targets of opportunity and hit them with guided missiles if found."
Russia has taken control of several areas of the larger Zaporizhzhia region, including the nuclear power facility, which was seized by Russian forces weeks after the invasion started. Zaporizhzhia and other Ukrainian territory were acquired by Russia in September, although they were repelled on the battlefield in the south, particularly in the Kherson region. Across the Dnipro River, the two armies are facing one another.
Picture Courtesy: Google/images are subject to copyright