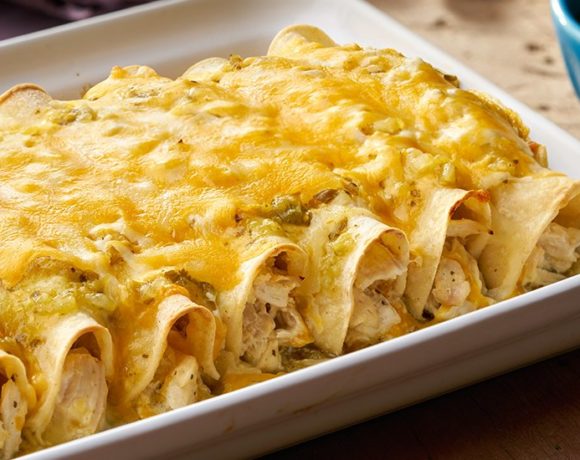 Ingredients
1 tablespoon butter
6 skinless, boneless chicken breast halves
1 cup onion chopped
1 green bell pepper, chopped
1 red bell pepper, chopped
2 cups shredded Cheddar cheese
1 cup green salsa
1 (4 ounce) can diced green chile peppers
1 cup chopped fresh cilantro
4 teaspoons ground cumin
2 chipotle peppers in adobo sauce, chopped
salt and ground black pepper to taste
12 (7 inch) flour tortillas
10 ounces shredded Monterey Jack cheese
1 cup whipping cream
1/2 cup chicken broth
Preparation
Take a pot of lightly salted water to a rapid boil over medium-high heat. Add the chicken to the boiling water; cover. Cook for about 15 to 20 minutes. Drain and set aside. Preheat oven to 350 degrees F (175 degrees C). Lightly grease a 10×15 baking dish.
Melt the butter in a skillet over medium heat. Cook the onion, green bell pepper, and red bell pepper in the melted butter until just soft, 5 to 8 minutes; transfer to a large bowl. Add the chicken, Cheddar cheese, green chile peppers, salsa, cilantro, cumin, and chipotle peppers to the bowl. Season with salt and pepper; mix.
Place about 1/3 cup of the chicken mixture along the edge of a tortilla; roll tightly into a tube. Place the enchilada, seam-side down, into the prepared baking dish. Repeat until all the chicken mixture is used. Sprinkle Monterrey Jack cheese over the enchiladas. Whisk together the whipping cream and chicken broth in a small bowl; pour over the enchiladas. Cover the dish with aluminum foil.
Bake in preheated oven 30 minutes. Remove foil and continue baking until cheese is completely melted, about 10 minutes.
Photo Courtesy: Google/ images are subject to copyright