Cream of Green Garlic and Potato Soup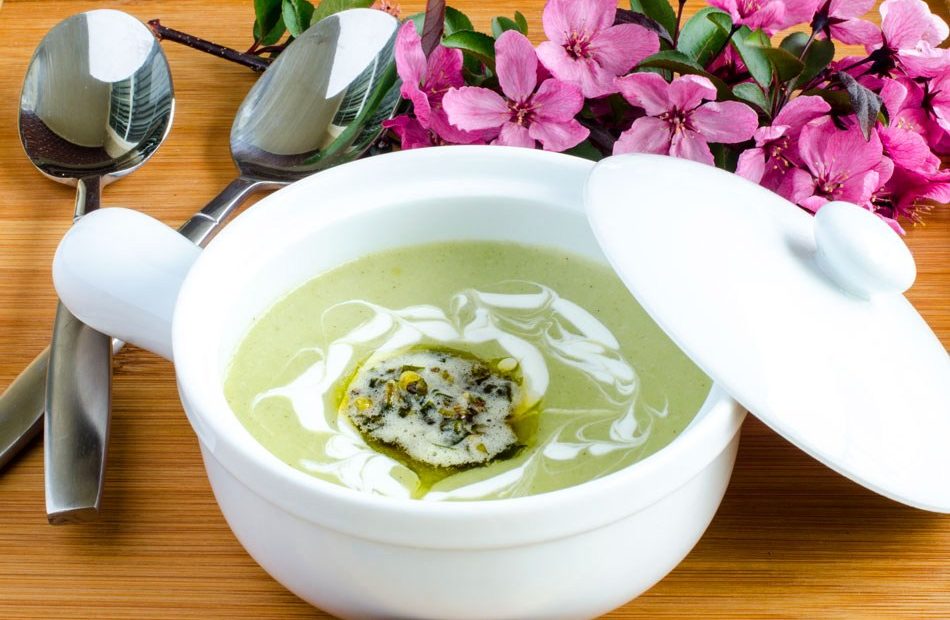 Soups are an ever favorite dish. Lets give a try to the delicious Cream of Green Garlic and Potato Soup.
Ingredients
4 russet potatoes, peeled and chopped into equal-sized chunks
3 cups chopped green garlic, white and light green parts only
1 tablespoon olive oil
2 ounces minced prosciutto
Salt and ground black pepper to taste
1 pinch cayenne pepper, or to taste
1 quart chicken broth, or more as needed
1/2 cup heavy whipping cream
2 tablespoons chopped fresh chives for garnish (optional)
Preparation
Place potatoes in bowl of water. Set aside. Soak green garlic in a bowl of water to remove dirt or sand. Drain and set aside. Heat olive oil in a skillet over medium heat; cook and stir minced prosciutto until it begins to sizzle, about 2 minutes. Add green garlic and continue to cook, stirring frequently. Do not let the garlic brown. Season with salt, black pepper, and cayenne pepper; cook and stir for 1 to 2 more minutes. Mix chicken broth into green garlic mixture and bring to a simmer. Reduce heat to low, cover and cook for 30 minutes.
Remove potatoes from the bowl of water and add them to the garlic and broth mixture. Cook until potatoes are tender and easily smashed against the side of the pot, about another 30 minutes. Add broth as needed. Transfer potato chunks and some green garlic chunks to a blender with about 1/2 cup cooking liquid. Puree until smooth, adding more cooking liquid as needed. Stir blended potato mixture back into the pot; stir in heavy cream. Cook over medium-high heat until cream is warmed through, about 5 minutes. Season with salt and black pepper to taste. Garnish with fresh chopped chives.
Photo Courtesy: Google/ images are subject to copyright