Dozens feared dead after Russian bomb hits school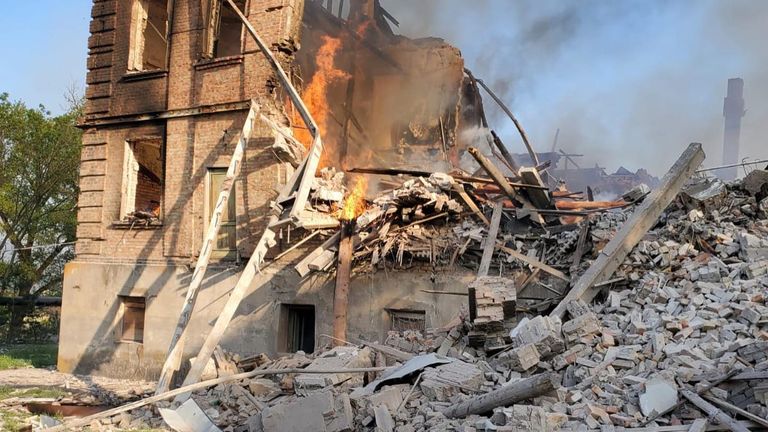 The bombing of a school where villagers had sought refuge is tragically just one of many attacks this weekend as the war in Ukraine continues.
A sustained Russian assault has resulted in fierce fighting around Popasna in Luhansk in recent days. Serhiy Haidai, the local governor, said Ukrainian forces were retreating and that the town had been completely destroyed.
Ramzan Kadyrov, the Chechen leader and a close ally of Russian President Vladimir Putin, announced that his troops had taken control of the majority of the town.
Meanwhile, Russian-backed separatists in the neighbouring Donetsk region claimed that Ukrainian shelling hit the city of the same name and another town, Holmivskyi, on Sunday.
Both sides had previously stated that the other would suffer significant losses. According to the Ukrainian government, 400 enemy soldiers were killed, eight tanks and 28 other armoured vehicles were destroyed, a ship and a helicopter were destroyed, and 27 drones were shot down.
According to Russia's military, its air force alone killed around 420 Ukrainian soldiers and disabled 55 military vehicles. It also claims to have shot down two attack planes and a helicopter near the port of Odesa, as well as destroying a warship with a missile. Since the Russian invasion began, the Ukrainian government has accused Moscow of targeting educational establishments, including schools and colleges, completely destroying more than 20 sites.
Daria Herasymchuk, a presidential advisor, called the invasion "a war against children."
Officials said on Sunday that the Russian invasion has killed 225 children and injured 413 others, though these figures are likely to be higher because they do not include casualties in occupied areas or areas where hostilities are still taking place.
Children were suffering the most, according to Ms Herasymchuk, in the eastern Donbas region, where the government has requested international assistance to repatriate children from orphanages in Russian-occupied territory.
Picture Courtesy: Google/Images are subject to copyright