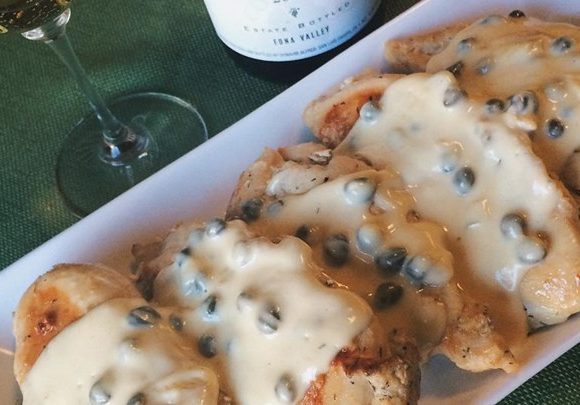 Planning to make a delicious and easy chicken dish for dinner? Here is a mouth watering recipe of Chicken Breasts in Caper Cream Sauce!
Ingredients
4 boneless, skinless chicken breast halves
1 teaspoon lemon pepper
1 teaspoon salt
1 teaspoon dried dill weed
1 teaspoon garlic powder
3 tablespoons butter
1/2 cup whipping cream
2 tablespoons capers, drained and rinsed
Preparation
Season chicken breasts with lemon pepper, salt, dill weed, and garlic powder. Melt butter in a large skillet over medium heat. Place breasts in skillet, and increase heat to medium-high. Turn chicken frequently, until brown, about 5 minutes. Reduce heat to medium, and cook 5 to 7 minutes, until breasts are cooked through.
Remove chicken to a warm serving platter, and cover with foil. Return skillet to stove, and increase heat to high. Whisk in whipping cream, whisking continuously until reduced to sauce consistency, about 3 minutes. Remove from heat. Stir in capers. Pour sauce over chicken, and serve hot.
Photo Courtesy: Google/ images are subject to copyright