Spain's National Team Resumes Participation in Nations League Matches After Boycott Agreement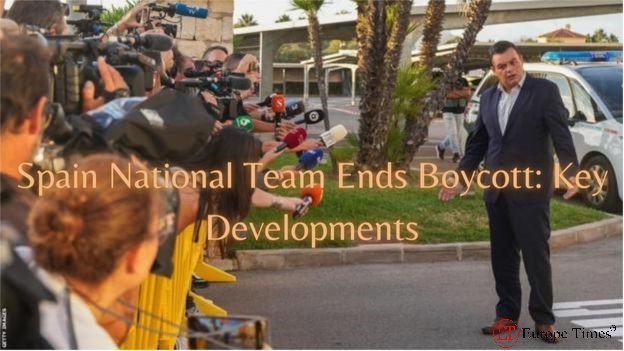 The majority of Spain's national football team members have agreed to end their boycott, as confirmed by the Secretary of State for Sports, Victor Francos. This decision was reached after over seven hours of discussions that concluded at 05:00 local time on Wednesday.
Francos stated that the Spanish Football Federation (RFEF) has committed to implementing immediate and significant reforms. Out of the 23 players initially selected for this month's Nations League matches, two, Mapi Leon and Patri Guijarro, have chosen to leave the squad.
The boycott began when the former RFEF president, Luis Rubiales, kissed forward Jenni Hermoso without her consent following Spain's Women's World Cup victory over England on August 20. This incident led to Rubiales' resignation and the dismissal of Spain's manager, Jorge Vilda.
The Spanish team is scheduled to play against Sweden and Switzerland in their upcoming matches. Francos expressed relief that the team would participate with assurances.
He mentioned that the decision was the result of "amicable" discussions in Valencia involving players, RFEF officials, the CSD (Spanish government's national sports agency), and the women's players' union Futpro. A joint commission will be established to oversee the agreed-upon changes, with the signing set to take place soon.
Leon and Guijarro will not face penalties for their decision to leave, which Francos described as "fully respectable." They had previously boycotted the national team along with 15 other players before the World Cup, citing issues with Coach Vilda. They did not participate in this year's tournament in Australia and New Zealand.
Regarding the situation, Leon stated, "We already knew this was not the right way to return, and we are not in the right state," and Guijarro added, "It's quite difficult and quite hard. Mentally we are not right to be here."
The new head coach, Montse Tome, included 15 players from the World Cup squad in her selection for the Nations League games, but the players reaffirmed their boycott in a statement, expressing their reluctance to participate and exploring potential legal implications.
Tome excluded Hermoso from the squad "to protect her," but Hermoso argued that this decision indicated that "nothing has changed" at the RFEF.
The CSD announced the establishment of a commission to oversee the agreed-upon changes, focusing on equality policies, equal pay advancements, and improvements to women's sports infrastructure.
Furthermore, the RFEF confirmed plans to merge the men's and women's Spanish national teams under a single logo and branding known as "Seleccion Espanola de Futbol" (Spanish national team). This move aims to promote equality in football.
Amanda Gutierrez, the president of Futpro, stated that most players had chosen to stay in the interest of the agreement, calling it the beginning of a long journey.
The Spain players arrived at their training camp in Valencia on Tuesday. When asked about her feelings regarding the situation, midfielder Alexia Putellas, a two-time Ballon d'Or winner, responded, "Well, bad."
Rubiales has been ordered to stay at least 200 meters away from Hermoso after she filed a legal complaint against him. In his first court appearance, Rubiales denied the allegations of sexual assault.
Picture Courtesy: Google/images are subject to copyright