Spain Election: Rightists make major gains; Socialists retain power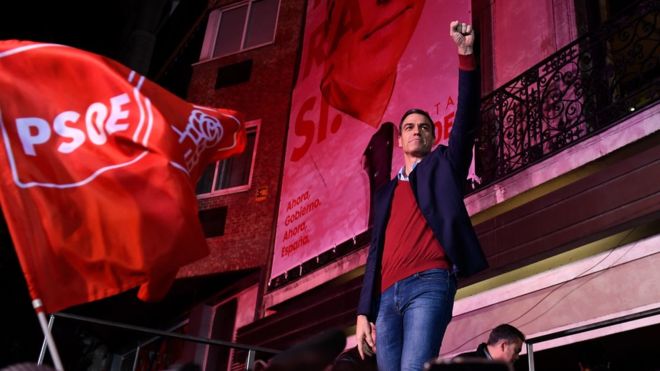 The fourth election in Spain in less than four yours has also contributed the crisis of political deadlock, like what it contributed in the past three occasions.

This time also, making the situation bad to worse, no political party has gained a clear majority in the Spanish parliament.

The Spanish parliament has nearly 350 seats. So, for a simple majority at least 176 seats is needed.

In the latest election, the ruling PSOE (socialists) has gained around 120 seats – which is at least three seats less than what it wristed in the previous election.

Meanwhile, the rightist political parties like the PP and the Vox have made major gains in the election.

The PP has increased its seat count to around 88 from less than 66, and the Vox to 52 from 24. As what can be clearly read from the data, the far-rightist Vox is the one that has made the biggest gain.

In the previous time, the socialists failed to find a supporter for its government. When it called for a snap election, its expectation was that it would be able to gain a clear majority this time.

What the election result tells is a different story. The result shows the decreasing popularity of the socialists and the increasing popularity of the rightists.

A political expert says that it is not wise to lose this chance. He adds that if the leftists lose this chance, they may not be able to come to power in the country anything in the near future.

The Spain election result has a message for the entire Europe. In Europe, the political left and the political liberal are shrinking. What that is occupying that space is the political right – sadly, the political far-right.

Unlike others, the political far-right is not easy to deal with. It is not clear whether the political left and the political liberal know how to deal with that front rightly.

Photo Courtesy: Google/ images are subject to copyright