Protest erupts in Greece over Macedonia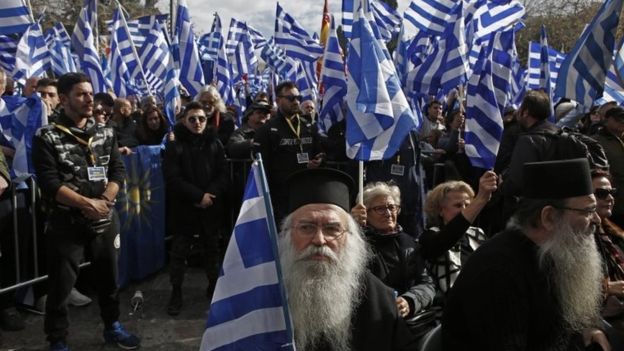 Severe clashes have broken out near the Greece parliament between the protesters, who have gathered there in protest against the leftist government's recent action in connection with Macedonia, and the police force.
Recently, the leftist government of Greece reached an agreement with Macedonia over its name, as against the interest of a large section of the conservative people of the country, in order to end its decades-old standoff with its neighbour that carries the name of its dearest city.
The Greek city of Macedonia is close to the heart of each conservative citizen due to the prominent role it has played in the evolution of the country's culture and history, for the protection which every Greek conservative stand for.
The concession given by the leftist government of Greece to its neighbour in the usage of name is regarded by the Greek conservatives as the permission to damage and to appropriate all those they seek to protect.
The Greek parliament is scheduled to vote on this subject soon. Given that, the latest protest near the parliament is of great significance.
Recently, the Greece leftist government faced a non-confidence motion. It was with severe uneasiness that the government surmounted it, as just before the voting it lost the support of its key partner to the same issue.
The conflict between Macedonia and Greece over the name was the fact that kept the former Yugoslavian republic away from the European Union.
With the recognition of its new name 'The Republic of North Macedonia', the European country has not only put its dispute with its neighbour to rest, but also has put to motion its dreams of getting into the most powerful economic union of the world.
Vignesh. S. G
Photo Courtesy: Google/ images are subject to copyright