Tasty and Healthy Greek Spinach Pie – Spanakopita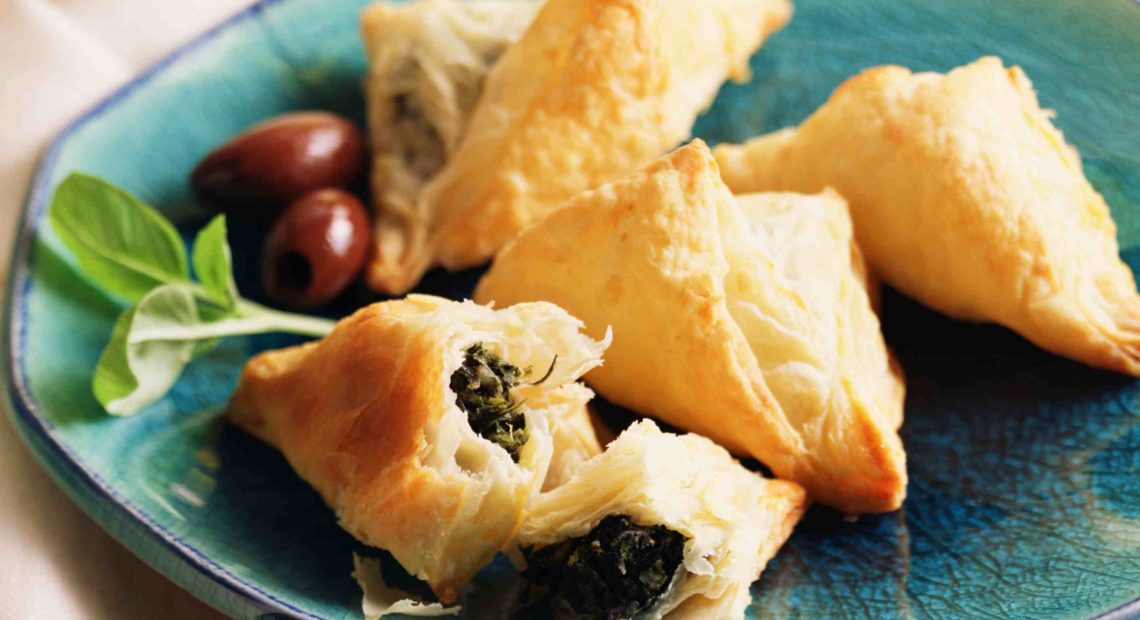 Spanakopita is a Greek savory pastry. The filling comprises of chopped spinach, feta cheese, onions or spring onions, egg, and seasoning.
Ingredients:
For the filling
1 tbsp. extra-virgin olive oil
2 (10-oz.) packages frozen chopped spinach, thawed
1/2 finely chopped onion
2 thinly sliced green onions
2 minced cloves garlic
1/2 tsp dried oregano
1/2 tsp. crushed red pepper flakes
Kosher salt
Freshly ground black pepper
1/4 c. chopped dill
1 tsp. lemon zest
1 c. crumbled feta
Pinch nutmeg
For Wrapper
3/4 c. (1 1/2 sticks) melted butter
10 (17″-x-12″) phyllo sheets, thawed if frozen
Preparation
Preheat the oven to 375° and line two medium baking sheets with parchment paper. With a clean towel, squeeze all excess moisture out of spinach. Transfer to a large bowl. In a skillet over medium heat, heat oil. Add onion and green onions and cook until softened, 5 minutes. Add garlic, oregano, red pepper flakes if using, and season with salt and pepper. Transfer the mixture to bowl with spinach.
Add dill, lemon zest, feta, and nutmeg to the bowl with spinach and stir until all ingredients are mixed properly and season again with salt and pepper, if needed. Remove phyllo from refrigerator and cover with a kitchen towel. Take 1 phyllo sheet and place on a clean surface. Brush all over with melted butter, then top with another sheet of phyllo. Brush second sheet of phyllo all over with butter. Slice into 6 long, evenly sized strips (They should be about 12′ by 3′ each).
Place a tablespoon of spinach mixture on the corner nearest you of one strip of phyllo. Fold corner over mixture to make a triangle, then continue folding (like a flag) until phyllo strip is completely folded over spinach mixture. Repeat until all filling and all phyllo is used. Place all folded triangles seam side down on prepared baking sheets and brush with butter. Bake until golden and crisp, 20 to 23 minutes. Let cool slightly and then serve.
Image courtesy: Google/ images are subject to copyright