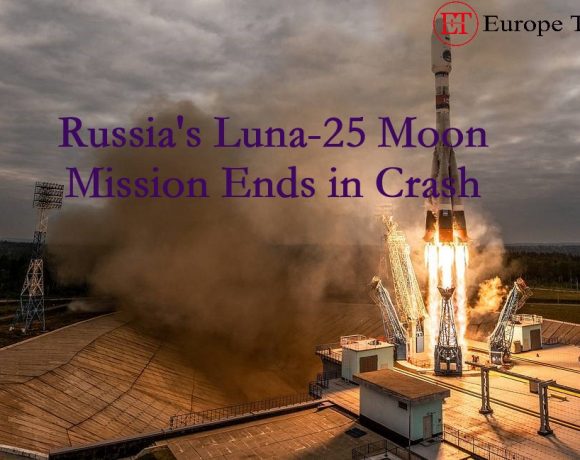 Russia's unmanned Luna-25 spacecraft has crashed onto the Moon's surface after losing control, marking the country's initial lunar endeavor in nearly half a century. The spacecraft, intended to achieve the first-ever landing at the Moon's southern pole, encountered complications while transitioning into its pre-landing orbit. This particular area of the Moon holds potential for frozen water and valuable elements, prompting anticipation.
Russia's state space corporation, Roscosmos, reported the loss of contact with Luna-25 around 14:57 pm on Saturday. A preliminary investigation revealed that the 800kg lander was obliterated upon impact with the Moon's surface. A dedicated committee will investigate the causes behind the mission's failure.
The incident signifies a setback for Roscosmos, as Russia's non-military space program has experienced a decline due to shifting funding priorities. Concurrently, India was in a race to reach the Moon's southern pole with its Chandrayaan-3 spacecraft, scheduled for imminent landing, aiming to explore and send back data and images of the region's hidden areas.
Parts of the Moon's southern pole remain enshrouded in permanent shadow, boosting the possibility of locating water. An official from the Indian space agency, Isro, expressed regret about the Luna-25 mishap, acknowledging the risks and technical challenges inherent in space missions.
Roscosmos had acknowledged the risky nature of the Luna-25 mission, which launched from Russia's Vostochny Cosmodrome on August 11. The spacecraft had successfully entered the Moon's orbit earlier in the week and was poised for a historic soft landing attempt just before India's own scheduled touchdown.
While the US and China have soft-landed on the Moon's surface, no country had previously achieved a successful landing at the Moon's southern pole. Luna-25 marked Russia's return to lunar exploration since 1976 when the successful Luna-24 mission took place during the Soviet era.
Picture Courtesy: Google/images are subject to copyright