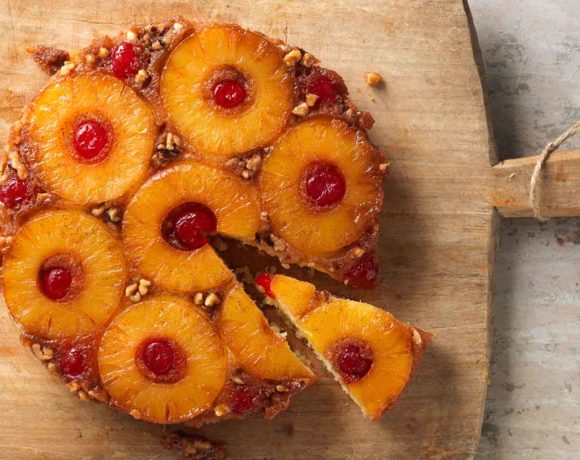 Get weird with some Pineapple Upside Down Cake! A simple and delicious cake that you will enjoy!
Ingredients:
Brown sugar: 1/3 cup
Butter : 2 tbsp
Water
Sliced pineapple pieces
Cherries
Salt : 1 cup
Plane flour : 1 cup (130 grams)
Powdered sugar : 1/4 cup
Baking soda : 1/4 tsp
Baking powder : 1 tsp
Butter : 1/4 cup (60 grams)
Condensed milk : 1/2 cup
Milk : 1/2 cup
Pineapple juice/ liquid pineapple extract : 1/2 cup
Vinegar : 1 tsp
Preparation:
We are using a cooker for making this yummy cake. In a pan, add 1/3 cup of brown sugar. Add 2 tbsp of butter and 1/4 cup of water into it. Cook it until it turns thick and bubbly. First, cook in a medium flame until the butter is melted. After butter gets melted, lower the flame and keep cooking till it gets thick and small bubbles appear on it. The topping for the cake is done.
Take a 7 inch cake tin, and just pour the brown sugar topping we made into this. Wait till the bubbles in the mix stops. Take some sliced pineapple pieces (round) and place it properly into this. Fill the gaps with chopped pineapple. Place cherries inside the pineapple rings.
Take a cooker and preheat it. Inside the cooker, add about 1 cup of salt. Place a ring cutter or a metal bowl in the middle of the cooker. Put the lid of the cooker without the whistle. Keep the flame high and heat for 10 minutes.
Next, we can prepare the dry ingredients. Take 1 cup (130 grams) of plane flour. Add 1/4 cup of powdered sugar into it. Add 1/4 tsp of baking soda and 1 tsp of baking powder into it. Mix all these ingredients and sift it. Add these into a large bowl after sifting.
Next, we can make the wet ingredients. Take a bowl and add 1/4 cup (60 grams) of butter. Add 1/2 cup of condensed milk. Whip well the butter and condensed milk. Take a glass and add 1/2 cup of milk into it. Add 1/2 cup of pineapple juice/ liquid pineapple extract into it.
Add 1 tsp of vinegar and mix it. Keep it aside for 2 minutes. Then add half of this liquid to the butter-condensed milk mixture. Mix it and then add the dry ingredients to it. Mix it well and add the rest of milk-vinegar mix to it. Give it a final mix and the batter is ready.
Transfer this batter to the cake tin that contains the pineapple layer. Place this cake tin inside the preheated cooker. Cover it without the whistle. Keep it in a medium flame and then let it bake inside the cooker for 30-35 minutes. (If u have an oven, you can bake it at 180 degree Celsius for 30 minutes. Use a toothpick to check whether the cake is ready. Take the cake out and wait for about 10 minutes, and flip it over. Serve it immediately or after cooling.
Image courtesy: kingarthurflour.com / images are subject to copyright