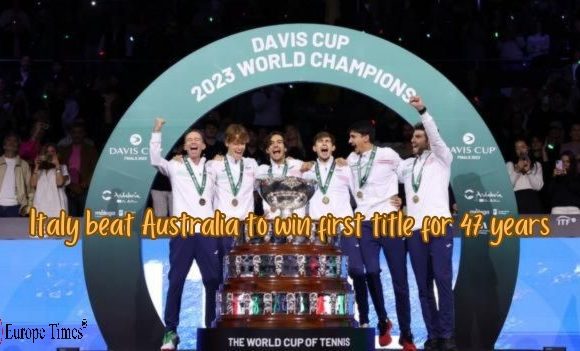 Italy clinched their first Davis Cup title in 47 years as Jannik Sinner dominated Alex de Minaur, securing a 2-0 victory over Australia in Malaga, Spain. Matteo Arnaldi set the tone with a tense 7-5, 2-6, 6-4 win over Alexei Popyrin in the opening singles, giving Italy a 1-0 lead. Sinner, in exceptional form, then cruised to a 6-3, 6-0 triumph against De Minaur, sealing the historic victory.
The win marked Italy's second Davis Cup triumph, the previous one dating back to 1976. Sinner's outstanding week, including a crucial win against Novak Djokovic in the semi-final, underscored his late-season brilliance. Italy's path to victory also featured Matteo Berrettini's positive contribution.
Sinner, ranked fourth globally, showcased his dominance by breaking De Minaur early and maintaining control throughout. The victory was not only a result of individual brilliance but also a collective effort, with Arnaldi playing a crucial role in securing the initial lead.
The Australian team, aiming for their 29th Davis Cup title, faced disappointment after back-to-back final losses, having been defeated by Canada the previous year. Italy's triumph was a testament to their resilience, overcoming challenges and celebrating the win with jubilation.
Italian Prime Minister Giorgia Meloni congratulated the team for their talent and commitment, acknowledging the historic achievement. The week in Malaga was marked by a fabulous atmosphere, reigniting debates about the competition format while affirming the success of the event organized by Malaga and the International Tennis Federation.
Picture Courtesy: Google/images are subject to copyright